by Dave from The Longest Way Home.
Where to find the best 5-star hotel in Kathmandu?
Nepal is a top international tourist destination but the reality is that the capital is only just catching up with international standards when it comes to hotels. True 5-star hotels are few and far between. Why? There is no recognized grading system in Nepal.
There's even a "7-star" in Nepal … but yes, it's far from it in terms of standards or facilities.
Let's take a look at the best five-star hotels in Nepal based on actually visiting, staying and reviewing them in person without them knowing!
Hotel Yak and Yeti
This 120 room 5 star hotel has been around for over 100 years. It's name is blazoned into the history of Kathmandu as it was built a palace by the royal Rana family. Today it's renovated interior contains set gilded fountains, 200-year old windows, stupas and lush gardens.
Rooms at the Yak and Yeti are designed with a mix of traditional Newari wood and modern facilities.
The hotel is equipped with the Sunrise Restaurant, for casual and light eating or drinks overlooking large landscaped gardens and pools. The Chimney restaurant offers fine dining with open fires and extensive menus. While a private bar stays open as late as you want.
Location wise the hotel is situated just off Durbar Marg which is the most affluent street in the nation with plenty of exclusive stores nearby. It's also walking distance from the hustling touristic center of Thamel. With a host of facilities available there's no issue in arranging private cars or tours to Kathmandu's iconic sights.
Radisson Hotel Kathmandu
A favorite among many long-time visitors to Kathmandu the Radisson boasts 260 rooms and is located in the diplomatic area of Lazimpat.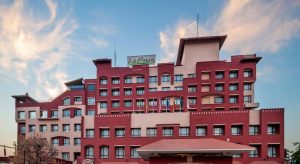 Split into two wings the old section is dated but the new wing is very modern with excellent facilities.
Rooms at the Radisson are a modern contemporary style with the new wing again offering the best in style.
The hotel is equipped with a rooftop pool, several restaurants of excellent standards and a coffee shop. With prices a the low-end of the five-star list the Raddisson offers up excellent value for money.
Hotel Shanker
This 94 room classic hotel is located right beside the former royal palace, Narayanhiti Palace Museum, in Kathmandu's primarily diplomatic area of Lazimpat.
This was a former Rana palace in itself and is close to the exclusive shopping area of Durbar Marg and the bustling touristic center of Thamel in central Kathmandu.
Hotel Shankers rooms are a blend of modern clean contemporary designs with classic Nepali royal architecture throughout the exterior.
Kailash restaurants cater to guests with extensive international menus. A fabulous banquet hall can be used for dining or formal occasions. While outside there's a pool and wonderfully lush private gardens.
There's an old world elegance to Hotel Shanker that appeals to many looking for some royal treatment. Hotel Shanker is another hotel that offers great value for money for a 5-star hotel.
Crowne Plaza Hotel Kathmandu-Soaltee
A list of the top 5-star hotels in Kathmandu cannot be complete without Crowne Plaza being included. Spread out over 12 acres with an outdoor pool and huge private gardens it makes for a great getaway.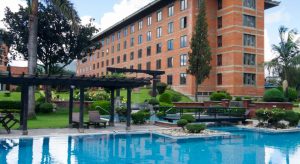 Rooms at Crowne Plaza are contemporary with subtle hints of Nepali design.
Crowne Plaza Soaltee boasts four restaurants offering continental cuisine, an exclusive Chinese restaurant, a Garden Terrace restaurant and an outdoor Indian style "Kakori" restaurant.
A long-term favorite among many Crowne Plaza Soaltee's prices don't often match other five-star hotels. Still, the hotel has huge grounds and is in a convenient location for those just flying in and out.
Hyatt Regency Kathmandu
One of the most popular 5-star hotel choices for visiting dignitaries and celebrities the Hyatt Regency has remained popular over the years for very good reasons.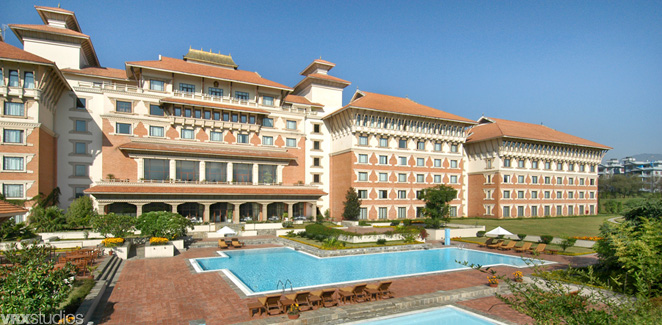 Located near Boudhanath stupa and set on 37 acres of landscaped gardens this modern Newari hotel offers over 280 rooms.
The rooms at the Hyatt Regency Kathmandu are chicly modern and spacious.
The Hyatt offers five dining choices ranging from exclusive European dining to cafes, lounges and bars. The hotels travel services is one of the best in Kathmandu and can arrange everything for you from trekking to day trips.
Hyatt Regency Kathmandu Prices
More great top range hotel choices in Kathmandu
These are some of the best 5-Star hotels in Kathmandu but there are  many other exclusive accommodation choice in Kathmandu. Among these are serveral new up and coming boutique style hotels located in Patan and Bhaktapur well worth checking out.
Do read more about find the best accommodation in Kathmandu.
For more guides on Kathmandu and Nepal do check out the best guide to Nepal.
---