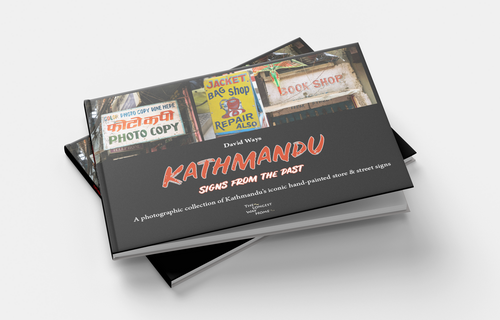 Buy it now! $34.99 $29.99
Tracking & express delivery available!!


Look inside
131 full colour pages of Kathmandu's iconic store signs

Book details:
Dimensions: 11.69" x 8.27"
Weight: 450grms 1st Edition
Pages 131

---

---
A photographic collection of Kathmandu's iconic hand-painted store & street signs
The perfect gift for anyone who has enjoyed the streets of Kathmandu's eclectic collection of shops & stores. This coffee table book is filled with the disappearing handpainted signs of Kathmandu.
»

Full colour pages: Enjoy impressive full-colour photographs in this impressive 11.69" x 8.27" landscape-sized book. Full bleed photographs reach right out to the edge of the paper for maximum enjoyment.

»

100% original photographs & book: There's no other book like this on earth. It gives a unique look to a side of Kathmandu everyone remembers but few have time to take photographs of.

»

Own a piece of disappearing history: this is unique part of history recording the incredible visual sensation that is Kathmandu. You'll smile at the handpainted dentist's signs you once rushed by and marvel at the traditional storefront you saw from the taxi window on the way to the airport.

»

A snapshot in time

: even as you read this the signs photographed in this book are disappearing. Replaced by dull plastic boards and neon lights. The hand-painted signs live on in this book.

»

Beautifully presented & printed: Not only will those who've visited Nepal enjoy this book, but it will stand out as a novel curiosity & conversation starter for anyone who picks it up.
This coffee table book is something to treasure on your bookcase or displayed for all on your table. Filled with memories & visual treats from start to finish it will capture the imagination of all.
This book is a snapshot in time of Kathmandu's eclectic & unique signage
I've been living and traveling throughout Nepal for over 10+ years. When researching my guidebooks to Nepal I noticed a change in the city landscape. The old handpainted store and street signs were starting to vanish.
These handpainted store signs are unique. Every store had their own made especially for them by a local sign-painter. Nealy always painted onto metal ( for longevity) they often included little pictures or more often a some unique and oftentimes humorous wording.
From one of the oldest "The Annapurna Seeds" store in Ason, to the bizarre Dentists quarter, to trekking stores and old colorful wooden doors. They are all on display for you to enjoy.
This book is 100% original & supports local Nepali people!
During 2021 the pandemic has hit employment hard in Nepal, likewise the publishing industry:
This book is printed internationally as the Nepali post office has been closed for global shipping - sales of this book will be used to help restart the local publishing industry in Nepal, including local employment during the pandemic, and will be printed nationally by Himalayan Travel Guides once Nepali postal services resume.
This book is near-zero-waste & carbon positive. It takes 1 tree to make 30 books. I will be planting 1 tree for every book sold!
Now shipping worldwide.
Looking for the perfect gift for someone that's visited or loves Nepal? This is a great chance for them to own a unique snapshot into a world soon to change. Enjoy the incredible disappearing hand-painted signs of Kathmandu!
Buy it now! $34.99 $29.99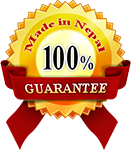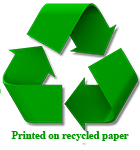 Secure https checkout
Multiple payment options available including PayPal
Multiple delivery/tracking options available
No registration required
No spam follow-ups