Real Videos from the Everest Base Camp Trek
A collection of documentaries, videos and film about the Everest Base Camp Trek. A great way to find out what to expect from the trek via other peoples experience.
There are no commercial videos here and video bloggers Daily "Must See's" so you can get a more real idea about what the trek is like.
There's also some really nice high altitude footage in HD which is quite simply breathtaking.
Finally for those that have enjoyed Nepal and trekking it's a great way to relive some of those great moments and shout out "I remember that bit!!"
A one hour documentary of the trek to Everest Base Camp. From a brief tour of the city of Kathmandu to flying into Lukla and hiking the almost 100 miles round trip to base camp. The first 30 min's is a great introduction to what you might expect on a trek. Everyone's experience will be different (time of year etc) but this is still a good intro.
 (by Barry Kolsky 1 hour 4mins)

A fun diary from two backpackers trekking to bas camp set to various music. Featuring a bumping Lukla landing. One of them got sick at the end where you'll see a what a helicopter evacuation looks like. Another reason why you should really read about what trekking insurance you should get for Nepal!
By Anand Raghavan (19.33 min)
If you are looking for something visually appealing this short HD video of the Himalayas will do the trick. Allegedly its the first HD video of the mountains from this altitude (some dispute this) but nonetheless it's a visual feast worth checking out. Of note is the footage shot of the Nepalese valleys the helicopter flies over enroute to the mountains.
By Teton Gravity Research (2.30 min)
Going Trekking to Everest Base Camp?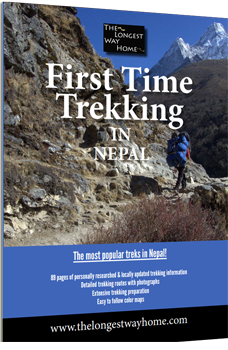 Get the best guidebook for trekking in Nepal
What's Everest Base Camp like when it's cloudy? In this video a girl sets of on the Everest Base Camp trek and sets it to music. While the video can be enjoyable the for people planning a trek it's actually very useful as it shows base camp on a cloudy day. For different weather you check out my own
Everest Base Camp journal when it snows
.
By Chanelle Ugle-Reid  (05.21 min)
A beautifully shot video with great scenes from the Kathmandu Valley before taking to the Everest Base Camp Trek and summiting Island peak. Set to Nepalese music it makes for a wonderful example on what you can expect from a trip to Nepal.
By Steele Burrow (10.11 min)
Ever wondered what it would be like to trek to Everest Base Camp in the middle of winter? (Jan). Liren did it! A nice video showing clouds at the start, snow on the trail and then finally clear blue skies over Everest. There's even a scene of some monks skiing!
By Liren Chen (7.29 min)
A long video/film from a man making a solo trek in the winter to Everest Base Camp. The video is a mix of film, photos and a narrative. It's a day to day account which may have spoilers but worth it if you really want a look at the trek.
By Arthur P. Obrzut (43.42 min)
Going Trekking to Everest Base Camp?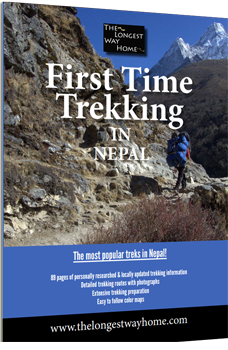 Get the best guidebook for trekking in Nepal
---