Review Summary:
Hotel Vaishali
A long running high end hotel in Thamel
PROS - Location. Amenities. Parking. Pool. CONS - Slightly dated for some. WiFi does not reach all the rooms. USD $66-122
Hotel Review:
Hotel Vaishali
Date Published: 03/12/2015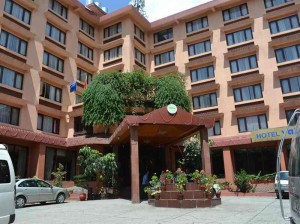 Let's look inside
Hotel Vaishali is located in the northern part of Kathmandu's busy (Thamel) area on a relatively quiet corner plot.
Offering over 90 rooms of varying category there's no shortage of accommodation even during peak season.
Inside the hotel there's a very small shopping arcade, cafe and a restaurant offering local and international cuisine with a recent Indian section opening up. Outside there's a kidney-shaped swimming pool which has seen better days and a pleasant garden area.
A generator ensures that there are no power outages in this power-cut prone city.
Rooms & staff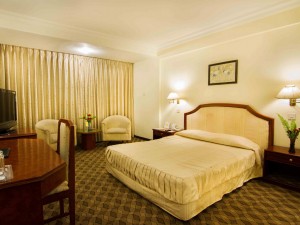 The rooms are neat and clean if a little aged in terms of decor. Nevertheless the bedding is clean and well-kept. The bathrooms a just a little small considering the price you pay for a room. But again they are clean and it's simply a matter of getting on in years.
Most of Vaishali's rooms are centrally air-conditioned however there are a few recently renovated rooms offering individual air conditioning so be sure to ask if you have a preference when checking in.
Rooms come with a plasma TV with satellite access, a desk and most have a balcony view. Unfortunately WiFi is not free in all the rooms with only the ones near reception getting free access. However there's free Wifi in reception and in the restaurant.
I found the staff professional and quite courteous. During festivals there's often a free evening cultural show for guests to enjoy.
Summary
Vaishali offers a great peaceful central location in Kathmandu. All your needs will be tended to by the staff and your close by to all of Kathmandu 's attractions. Yes, the rooms are little classic but they are still well-kept and clean though perhaps the price is a little high compared to some newer hotels.
If you are looking for an established classic well run hotel in Kathmandu then Vaishali will certainly not disappoint.
---
Get the best room price now!
I've personally visited & reviewed this hotel plus found the best online prices for you – View more photos, LIVE prices and book a room at Hotel Vaishali
---
Room prices I was quoted
There's no off-season or peak season change in prices. Here are the main difference between the rooms and their pricing so it's worth checking out each room online before you pick one you like.
---
Looking for more hotels in Kathmandu? No problem there are plenty more on my Kathmandu hotels page to choose from
All hotel stays have been paid for personally with no knowledge from the hotel owner that their accommodation was being reviewed