Quick look:
Kathmandu Garden House
A charming little Guest House in a quiet part of Kathmandu
A good place for budget travelers looking to get away from the hustle and bustle of Thamel. With a secluded garden, budget rooms and 20 years experience it's a great little place to stay a while
Hotel Review:
Kathmandu Garden House
Date Published: 05/10/2015
Let's look inside
Kathmandu Garden House has been around for over 20 years. Located just of Thamel in the much quieter Paknajol area it's in an ideal spot away from all the hustle and bustle of Thamel. Yet still within easy walking distance.
The budget guesthouse's claim to fame is its lovely garden. Which is indeed a treat during warm summers or sunny winter days. Guests sit out for breakfast or lunch while reading a book or simply chatting to other guests. Likewise the rooftop, though a little rundown, offers some quiet seclusion.
This guesthouse have become somewhat of a landmark among other guesthouses in the area. With a new chef at the helm offering the best breakfast pancakes in Kathmandu!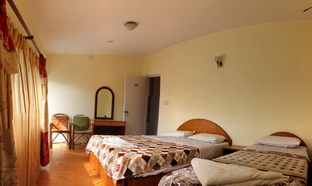 Rooms & staff
The rooms are old school guesthouse rooms. They are clean but a little worn. Nonetheless they are very quiet, peaceful and clean with attached bathrooms.
The free WiFi is patchy though and has been for some time.
Staff at the Kathmandu Garden House are friendly, helpful and  will often cut you a good deal if you plan on staying for a while. It's a family run guest house and the owner Sangita is the best person to speak with or her brother Kumar.
Summary
Kathmandu Garden House has been around a long time due to its popularity with budget and mid-scale travelers. It's keeping true to its word and continues to flourish by offering great budget accommodation to travelers from all over the world. If you want some solitude along with a spacious room with an amazing rooftop view go with the new building.
With honest staff and a host of room rates Kathmandu Garden House continues to remain one of the best choices in Paknajol.
---
Get the best room price now!
I've personally visited, reviewed & found the best online prices for this hotel for you – View more photos, maps, LIVE prices and book a room at Kathmandu Garden House
---
Room prices I was quoted
There are several room types: All have en-suites but the higher ranged rooms offer bathtubs, balconies and come with breakfast included. WiFi reaches all rooms but is not that fast.
Special offers are currently available at this hotel! Book Now
---
Looking for more hotels in Kathmandu? No problem there are plenty more on my Kathmandu hotels page to choose from
All hotel stays have been paid for personally with no knowledge from the hotel owner that their accommodation was being reviewed