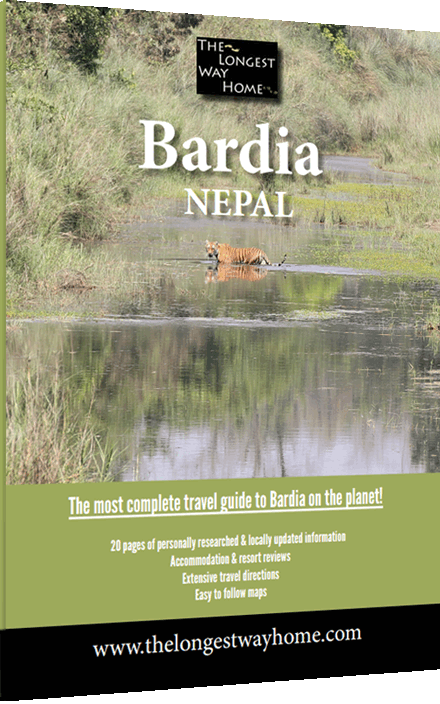 Buy it now $2.99

Look inside
Personally researched & locally updated information for all budgets in the jungle!
This is the best guidebook to Bardia National Park
For over 12+ years I've traveled, lived in, explored wild jungles and written guidebooks about Nepal. Now visit Bardia yourself and make the most out of your time there!
Explore Bardia like no one else with this fully comprehensive guidebook to the most exciting jungle in Asia.
»

A better guidebook: You'll get easy step-by-step walkthroughs & interactive color maps through Bardia like no other guidebook before.

»

More than just the basics: Discover the best places to find

royal Bengal tigers

,

wild elephants

,

one-horned rhinoceros

,

crocodiles

plus more

wildlife & fauna

. National park fees & much more

»

Save your money: Learn what's important and what can be skipped on your itinerary if you're in a rush. Understand Nepal like a local with genuine insider knowledge.

»

Save time: Learn about the new direct bus to Bardia from Kathmandu, Pokhara, or take the local overnight bus.

»

Descriptive photos & maps: You'll enjoy over 55 color photographs & 4 detailed maps showing you where you are & what you to see.

»

100% Honest reviews: Eat & sleep well in the jungle! Find out the best resorts for all budgets in Bardia. From top resorts to budget guesthouses in every location shown with all prices listed!
I really wanted to visit Bardia for years but was put off by the lack of good information on getting there and what to expect. Once I discovered the best of Bardia, I kept coming back. This is where my guidebook will help you.
I personally researched & wrote this guidebook to both evolve travel guides to Nepal and bring you the best guidebook to Bardia.
This guidebook has been written and researched by a traveler for travelers just like you!
Available in downloadable PDF for all tablets, laptops, mobile viewing and print
Secure https checkout
Immediate download of guidebook
No registration required
No spam follow-ups