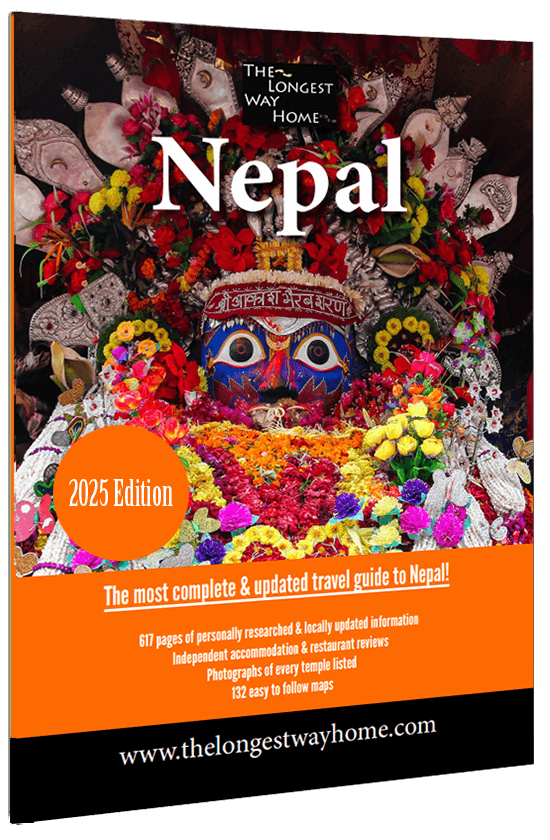 Buy it now $19.99



Look inside
617 color pages of professionally researched & locally updated information for all budgets!
This is the best guidebook to Nepal
For over 12+ years I've traveled, trekked, lived in and written guidebooks about Nepal. Now you are going to visit Nepal so make sure you make the best out of your time there!
Explore Nepal like never before with an up to date comprehensive easy to follow guidebook to this epic country filled with adventure.
»

A better guidebook: Take advantage of easy step-by-step walkthroughs & interactive color maps. The first of their kind in a guidebook.

»

Discover what others miss out on: You'll know exactly what temple, building or trek you are looking at! Again, the first guidebook with the ability to show you before you go and when you are there.

»

More than just the basics: you'll discover

all of the Kathmandu Valley

, original city heritage walks, royal squares, city markets,

Bhaktapur

,

Patan

,

Thimi

,

Boudhanath

, plus

Chitwan

,

Bardia

,

Panauti

,

Dhulikhel

,

Gorka

,

Nuwakot

,

Pokhara

,

Eastern Nepal

,

Ilam

,

Janakpur

. Includes the following 6 treks

Everest Base Camp

,

Annapurna Circuit

,

Annapurna Base Camp

,

Mardi Himal

,

Dhampus

&

Panchase

. You'll know what souvenirs to buy & where to shop, trekking preparation, recommended trekking agencies, plus new transport routes, activities, itineraries, travel visas, shipping agents, hotels, restaurants & much more ...

»

COVID-19 information: This is the first & only guidebook with the most up-to-date COVID-19 information including requirements to enter the country & to go trekking.

»

The most up-to-date guidebook to Nepal in the world: You will know about where the tourist bus park moved to & find out the new trekking permit prices. The latest hotels, restaurants & you'll know where to find them.

»

Save your money: You'll learn what's important on your itinerary and what can be skipped if you're in a rush. Understand Nepal better than a local with genuine insider tried & tested knowledge written for a traveler.

»

Save time: Enjoy easy to follow historic walking routes through Kathmandu, Bhaktapur, Panauti, Patan, Dhulikhel that you can do yourself! - no other guidebook delivers on heritage like this one!

»

Descriptive photos & maps: over 617 pages, 984+ color photographs, 132 interactive color maps & 5 diagrams show you exactly where you are & what you are looking at.

»

Get ahead: Find out how you can travel around Nepal easily without overpaying ticket prices while still avoiding the crowds.

»

100% Honest reviews: Eat & sleep well! Find out the best places to eat & sleep no matter your budget. Read personally visited and reviewed restaurants & accommodation from top hotels to budget guesthouses & corner cafes in every location shown with all prices listed!
Never before has there been a guidebook to Nepal that will save you so much time and money without all the usual guidebook frustrations. Why?
This guidebook has been written and researched by a traveler for other travelers like you!
I've been there & done that in Nepal several times over using many other guidebooks over the years. I know all the frustrations & let downs they can bring. Everything in this book is 100% genuine and original. I don't take sponsored stays, meals, trips or treks. Everything is paid for by me, so you will also know exactly what to expect when traveling in Nepal!
Where other guidebooks stop, this guidebook continues ...
I currently write the most successful, factual and up to date guides to Nepal in the world. My paperback books are published by Himalayan Travel Guides and my digital editions are also available right here. Working with teams of local people this is the best and most up to date guidebook to Nepal that you can own today.
I personally researched & wrote this guidebook to both evolve travel guides to Nepal and bring you the best guidebook to Nepal. This book saves you money & time with none of the old guidebook frustrations. I know the places the other books don't cover, now you can discover them too. I know the road transportation issues in Nepal and how to avoid them. Even local Nepali people use this book to get around the country! Get to see some of the oldest temples and the most interesting trekking routes in Nepal!
This is the first and only guidebook in the world to cover locations in Eastern Nepal including step-by-step photographs with detailed insider instructions in getting around the entire country.
From day trippers looking to see the best and move on quickly. To culture lovers wanting to explore Nepal and outdoor enthusiasts really wanting to make the most of their time. No matter how big or small your budget - If you are visiting Nepal then this book is a must.

Don't miss out on your once in a lifetime trip! Make the most of it by owning the best guidebook to Nepal!

Available in a downloadable PDF for all tablets, laptops, mobile viewing and printing!
Secure https checkout
Immediate download of guidebook
No registration required
No spam follow-ups
What other people are saying

Mandy - Malaysia
" Comprehensive guide with really helpful hotel & restaurant reviews ... "

Johann - Germany
" I really found the walking tours with photographs helpful."

Jane - U.S.A.
" I'm going back to Nepal and this is the only guidebook I'm taking! "