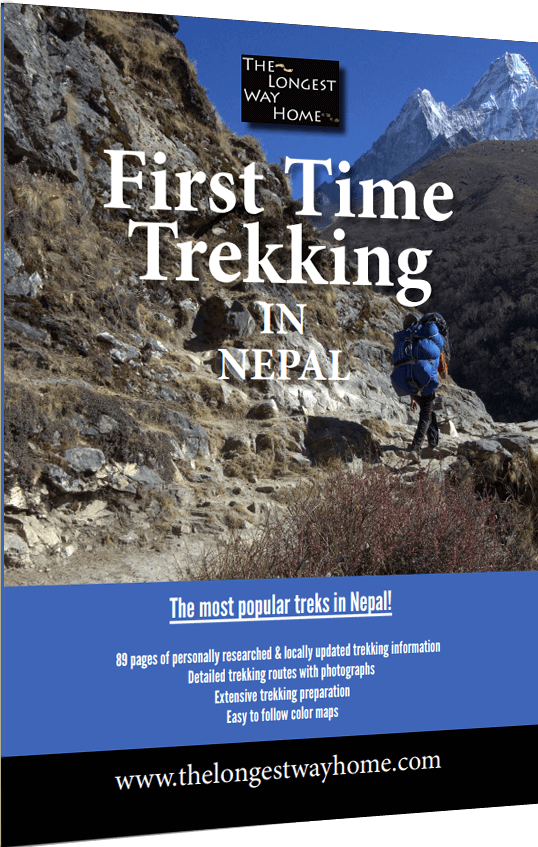 Buy it now $4.99


Look inside
89 color pages of personally researched & locally updated trekking information for all budgets!


This is the best guide book for first time trekkers in Nepal
For over 12+ years I've traveled, trekked, lived in and written guidebooks about Nepal. Now go trekking in Nepal yourself with the most up-to-date guidebook and make the most out of your time there!
Explore Nepal's best treks like never before with this fully comprehensive easy to follow guide book to the Himalayan mountains. The only trekking guidebook in the world to show you daily photographs plus descriptions of what to expect each day along with maps you can zoom right in on.
»

A better guidebook: Take advantage of easy step-by-step walkthroughs & interactive color maps. The first of their kind in a guidebook.

»

Discover what others miss out on: Know exactly what to expect every day on your trek!

»

More than just the routes: you'll discover

Everest Base Camp

,

Annapurna Circuit

,

Annapurna Base Camp

,

Mardi Himal

,

Ghorepani Poon Hill

,

Dhampus

and

Panchase

treks. Plus popular side treks including

Gokyo

and

Tilicho Lake

.

»

Preparation! Find out about the new mandatory guide rule, how to choose a guide, where you can find the best guides & how much they will cost.

»

Budget your trek: Learn about the real costs of trekking in Nepal & how to save your money!

»

2023 Treks: All treks have been GPS tagged & updated for 2023.

»

Save your money: Learn what equipment you'll need to bring, what you don't need & what you can buy in Nepal.

»

Save time: Comprehensive list of trekking agencies, trekking gear stores along with maps to show you where they are in Kathmandu & Pokhara.

»

Descriptive photos & maps: over 130 color photographs & 17 interactive maps to show you exactly where you are & what you are looking at before & when you are trekking. Includes the very latest trekking permit changes & fees.
Never before has there been a guidebook to Trekking in Nepal that will save you so much time and money without all the usual guidebook frustrations. Why?
This guide book has been written and researched by a trekker for trekkers just like you!
've been there & done that in Nepal several times over using many other guidebooks over the years. I know all the frustrations & let downs they can bring.
Where other guidebooks stop, this guidebook explores further ...
I personally researched & wrote this guide book to both evolve travel guides to Nepal and to bring you the best guidebook for trekking in Nepal. This book saves you money & time with none of the old guidebook frustrations. Learn from my hands on practical experience on getting the best guide, budgeting your trek to where to find trekking gear in Nepal.
Get to see your daily trekking route with photographs & a description of your route.
This is the only trekking guidebook with scalable maps - meaning you can zoom right in!
For first time trekkers in Nepal this book offers you epic treks like Everest Base Camp & the Annapurna Circuit to moderate treks like Annapurna Base Camp and easier treks like Ghorepani Poon Hill or a short overnight trek to Dhampus and Panchase.
For first time trekkers and previous trekkers discover the relatively new trek of Mardi Himal - Epic views in only 4-5 days!

Don't miss out on your once in lifetime trek! Make the most of it with this great guide to Trekking in Nepal!

Available in a downloadable PDF for all tablets, laptops, mobile viewing and print!
Buy it now $4.99
Secure https checkout
Immediate download of guidebook
No registration required
No spam follow-ups