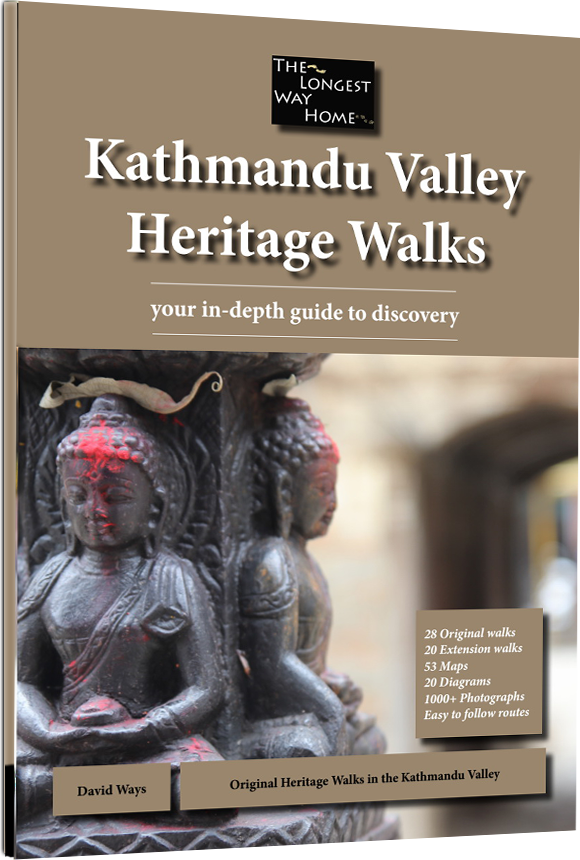 Buy it now $19.99

Look inside
360 color pages of personally researched & locally updated heritage walks in the Kathmandu Valley!
This is the best book to discover heritage in Kathmandu
For over 12+ years I've traveled, lived in and written guidebooks about Nepal and heritage. This book brings you the first dedicated guide to discovering the valley's great heritage through 28 original walks.
Explore Kathmandu Valley's heritage like never before with this fully comprehensive easy to follow guide book.
»

A dedicated guidebook on heritage: Discover over 28 original easy step-by-step heritage walks & 58 interactive color maps like no other heritage book before.

»

Discover what others miss out on: Hidden heritage is finally revealed to you with insider knowledge into the places no guides or guidebooks have gone before.

»

More than just the big sites: You'll have

10 new Kathmandu city heritage walks,

plus 18 in-depth original heritage walks for

Boudha, Swayambhunath, Pashupatinath, Kirtipur, Thimi, Patan, Bhaktapur, Panauti & Dhulikhel.

That's 28 original new walks plus 20 additional extension walks for a total of 48 walks to choose from!

»

First ever heritage links! These heritage walks were created for you enjoy with easy to navigate, fun walking links that join them all together. No more stopping & starting or getting lost.

»

Rediscover the discovered! If you thought the big popular heritage attractions were already written about, get ready. Prepare to discover their hidden courtyards, statues, shrines and temples that have never been revealed before!

»

Precise locations: All the locations within this book have been evaluated, GPS tagged & researched with notes on heritage walk distance, difficulty level & duration.

»

Discover Kathmandu's Hidden History: Find out about the secret of the Bhatbhateni temple, walk through the first settlement streets of Hadigaun, the lost palace of Kailasakuta & discover more secrets of the valley.

»

Save time: No more getting "templed out". Every heritage walk is unique with no going back over the same road twice. Everything is designed to let you explore like never before.

»

Descriptive photos & maps: Over 1000+ color photographs, 58 interactive maps & 20 detailed diagrams are used to show you exactly where you are & what you are looking at.
Never before has there been a guidebook to Heritage walks in the Kathmandu Valley that will save you so much time and money without all the usual guidebook frustrations. Why?
This book was created for heritage enthusiasts & for those who want to discover more!
I've personally researched & written this guidebook to both evolve travel guides to Nepal and bring you the best book on Heritage in The Kathmandu Valley. This book saves you money & time with none of the old guidebook frustrations. Go from one part of Kathmandu city to the next without the traffic.
Take heritage walks through the ancient old royal capitals of Kathmandu, Bhaktapur, Kritipur, and Patan and know exactly what you are looking at without the need for a guide. Get to see some of the oldest temples and most interesting parts of these cities that you won't find anywhere else in the world.
From day trippers looking to see the best the Kathmandu Valley has to offer and move on quickly. To culture lovers wanting to explore all the back streets, hidden temples and to make the most of their time. No matter how big or small your budget - If you are visiting the Kathmandu Valley then this book is a must.

Don't miss out on your once in a lifetime trip! This is the guidebook which will set you apart from everybody else. This guidebook will help you make the most out of your visit to the Kathmandu Valley!

Available in downloadable PDF for all tablets, laptops, mobile viewing and print!
Secure https checkout
Immediate download of guidebook
No registration required
No spam follow-ups