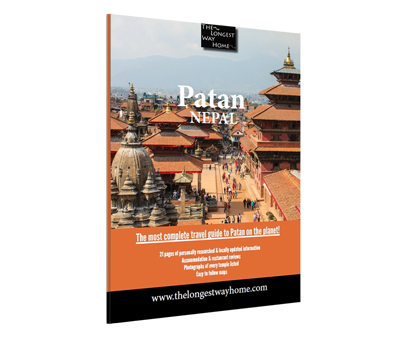 Buy it now $1.99



Look inside
43 color pages of personally researched & locally updated information for all budgets!


Discover Everything in Patan
For over 12+ years I've traveled, written heritage walks about Patan and written guidebooks about Nepal. Now you too can truly discover Patan!
Put all of Patan in your pocket.
Don't miss out on your trip of a lifetime!
Explore Patan like never before with this fully comprehensive guidebook to the place known as the "Beautiful City".
| | |
| --- | --- |
| » | Walking tours: Take advantage of easy step-by-step walkthroughs & interactive color maps like no other guidebook |
| » | Includes the mysterious Balkumari temple |
| » | No more frustration: You'll know exactly what temple or building you are looking at! |
| » | Save money: You will learn what's a must see and what can be skipped if you're in a rush |
| » | Save time: Enjoy an easy to follow walking route through Patan durbar square up into north Patan and back down to south Patan without missing a beat! |
| » | Descriptive photos: enjoy over 76 color photographs used to show you exactly where you are & what you are looking at |
| » | Eat! Find out the best places to eat no matter your budget. Where to get a cup of coffee when you need it. And where to grab a quick snack or full meal |
| » | Sleep & save!: Want to stay a night or two in Patan? Read personally visited and reviewed accommodation from top hotels to budget guesthouses with the best room rates already sourced for you! |
Never before has there been a guidebook dedicated to Patan like this. It's a must have for visiting Patan. Why?
This guidebook has been written and researched by a traveler for travelers just like you!
I've spent years in Nepal using many other travel guides and I know all the frustrations & let downs these generic guidebooks can bring.
I personally researched & wrote this guidebook to both evolve guides to Nepal and bring you the best guidebook to Patan. This book saves you time & money while helping you explore the best of this beautiful city.
From day trippers looking to see the highlights and move on quickly. To culture lovers wanting to explore the back streets and stay a full day or even the night. No matter how big or small your budget - If you are visiting Patan then this book is a must.

Don't miss out on your once in lifetime trip! Make the most of it with this great guide to Patan!

Available in a downloadable PDF for all tablets, laptops, mobile viewing and print!
Buy it now $1.99

Secure https checkout
Immediate download of guidebook
No registration required
No spam follow-ups