This year will mark my 4th Holiday Period on the road.
Out of the 4, I have spent 3 alone.
This year I am back in the heat of South East Asia, and will again be alone. Why I ask myself?
The first year in Africa I was alone out of sheer financial necessity. Long story,
but basically I was in the shit and not a person I knew was around. However it was in an Islamic part of Africa, so life thankfully went on as normal that day. By the Second year I had met a lot of people, and we all worked together with one thing in common. We were out there alone, so we celebrated together as friends.
Last year in Nepal I went out on the 24th and met some fellow travelers. Couples,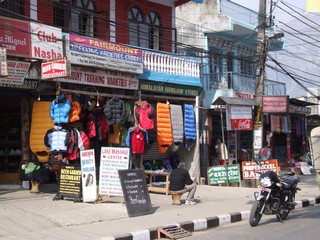 singles the works. We ate, drank and went back to our respective hotels. But it wasn't the same as the previous Holidays in Africa. It felt like a one night stand of friendships, all because it was Christmas eve.
We were all strangers. The couples were cozy together, the singles tried to make coupling happen. And a few others just looked on with beers in hand. I don't really believe in making friends just because it's Christmas, or new
years. Not very jovial I know. But I just find it a little fake. Christmas is for Friends and Family. I spent that 25th on a boat headed up to the World Peace Stupa. On the way back I noticed other solo travellers walking around. Each of us wondering the same thing. Is that person across the road alone too? Then we'd tuck our heads down or look at at touristy shop window and pick up the pace.
I then bumped into a few sore headed people I met the night before. Invitations were extended for another night out. But first a big dinner. So now I had two choices, the invitation, or my own idea of bliss.
I went back to my hotel. Internet and email first. Greetings all round. With no one to buy a present for, I made some telephone calls and then did what many other solo travelers do at Christmas. Went to my room and watched movies for the night. Sheer bliss, peace. At least for me. A form of escapism I guess.
This year there are few travelers around. I saw a bunch of English lads picking up some local girls, and then a few couples. That was about it for tourists. My alternative is to take up some local invitations for Christmas.
To be honest I know there will be much drinking and singing going on. The later I would like to avoid at all costs. I shall turn them down. Movies and escapism it is again!
For me post 25th is a great time to travel. Traffic is down. Backpackers are for the most part are hung over and broke. And, are looking for the new year parties. I am a guy on a lone mission to find home. No excuses. Hopefully I will find this soon. In the meantime I am sure there are other backpackers and travelers also spending Christmas alone. Either embracing a beer, a movie, a laptop, or if they are lucky, a friend or loved one. Maybe some are at home doing this. No better place.
I hope the same some day.