I knew it was going to be a long day, my train was at 12.30am tonight, or is that tomorrow? After spending the morning zipping along Varanasi's streets with Waseem omn his inflated Indian super bike I wanted to chill out. There was no better place to do this than a river side seat by the Ganges.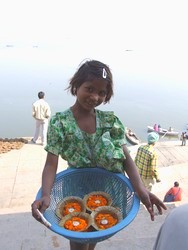 It was after lunch, and the river was quiet. Even in the afternoons harsh light, the river had a certain golden glow to it. A cute young girl of about 8 years was selling flowers came up to me. I brushed her away like all the others young kids around the area. But she did have a good face for a photograph. She had clever eyes, something I caught on to very quickly as I took my camera out.

"10 Rupees for flowers," she said showing me her basket of little orange flowers. The flowers were in bundles of five, all surrounding a short little white candle set on a brown leaf of some type. The leaf was shaped into that of circle so that it could float like so many others did on the river.

I shook my head, "Shouldn't you be in school?"

She smiled, "I was, This morning. See, learn English there."

Whether she was smart, or good at extracting tourists money, it didn't matter. On this day, she made me laugh. I handed her 20 rupees for a candle boat. She smiled again. We talked for a while, and I noted that her English was indeed quite good. Then she ran downthe steps towards the shore and tried to sell the candle boats to another tourist. But each time she would come back for another chat.

"I give you 20 rupees for the fifty in your pocket!"

Damn, she had seen my change when I had paid for the flowers.
Shaking my head I frowned, "Why should I give you my fifty?"

She shrugged, "Because I asked for it!"

I laughed again. And yes I did give her the fifty. It was worth it for the conversation, and the fact that she kept the other street children away from me. She didn't stay much more. But our parting conversation would effect the rest of my evening.

She asked my name as she looked at the little vessel of flowers I had bought from her. "You should put that in the river for your family, and light it."

Her eyes were innocent. Yet with such innocence she hit upon wisdom. She paused while looking between the flowers and me, "or, for your friends."

I thanked her again and watched as she walked away. Something about all that made me think if indeed India had that spiritual essence people talk of. Not something I would ever confess too in a place like Varanasi.

Waseem was gracious enough to allow me to stay in my room that evening for half price. It gave me a chance to pack and relax. For dinner it was just me and the Italian travelers, which was nice. I began to tell them of the girl at by the Ganges. I reached into my pocket and pulled out the little candle boat I had bought. I had never sent it to the river.

One of the Italians looked at me with a blue eyed gaze and out of nowhere said she would do it for me tomorrow. I scowled. There was no need for effort, the boat would live in my little bag of trinkets.

The hotel chef and resident conversation starter interrupted. He suggested I should go to the roof and stand in silence for 5 minutes, and that would do instead. It was a damn flower boat, yet everyone was concerned I had not set it away on the Ganges.

As I bid the Italians goodbye, Waseem and his family presented me with a garnet of orange flowers. They then gave me the Hindu symbol of good luck and placed a red dot on my forehead along with a big round of applause. Was this my birthday in Hindu? Such a fuss. I wondered if Waseem thought I worked for a guide book company. But it was moving to have a mini send off like that.

Back in my room I had everything ready. It was 11pm. And yes, the candle boat was doing my head in. I had to do it. Heading downstairs I woke Raja, the doorman, up to open the door and told him I had to go to the Ganges to do something.

"No problems, you go." he stretched wearily.

I walked quickly through the dark alley's. There was nobody around. I wondered if the crumbling little candle boat would even float.

I reached the shoreline and lit the candle. Being careful not to touch the water myself and wondering if it would float I gently placed the little candle boat into the Ganges river. It did float. The flowers headed off north with the rivers gentle current. The candles little light twinkling in the waters reflection. It felt good. As if it was meant to happen, and did.

Raja opened the doors to the hotel, "Did you get to the Ganges?"

I replied with successful nod.

"Good,"he nodded thoughtfully in return. Though it could equally have been a sleepy nod.
Was I missing something here? It didn't matter. It felt good to have accomplished it. Sometimes things stick in your head. Sometimes they are silly, sometimes they have meaning. But if accomplishing them makes you feel good, and then the lingering memory will be better than wondering why you never did it.

Now all I needed was an Auto Rickshaw to the Train station leading to my journey out of India.