Strangely enough I found myself being affected by women in Iran.  Not just Iranian women, but women travelers too. 
Something I was not expecting, and something I found that stuck with me.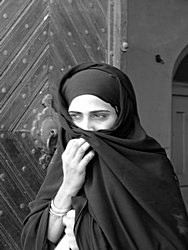 Having come through Turkey, and lived in a Muslim society  previously I was used to seeing Chador's and Burkas. Well, not so many black ones, but it wasn't unusual. It conjured up memories from both Morocco and West Africa. Personally speaking I found Iranian women to be quite dazzling beneath their veils. Personalities sparkled along with eyeliner and intrigue.


In Esfahan I had the pleasure of meeting with some Iranian girls, both quite open to conversation. Most of it dominated by 'would Iran be invaded by the USA'  and 'did I like Iran' Standard conversation. But they did it all from closed doors or in this case a closed store.  Outside on the main road, it was keep your distance time.

In Tabriz I met a traveler who told me stories of Iranian Girls in Tehran. A story of ignorance on his part.  No matter the country. But he did tell of the underground parties and clubs in the capital that first opened my ears to learning more.


That said when travelling in Yazd with a German lady we met an Iranian student. She was a lot more comfortable chatting with me in public when the German lady was there. But once alone on the street, distance and polite conversation ensued. Inside a restaurant; no problems.


A chance encounter with a male Iranian student on a bus saw me being asked about Western women, and a rather graphic depiction of what he thought Iranian woman were like. A strange conversation, that was repeated on another bus with a different Iranian man. The conversations with Iranian men, and Iranian women I had were completely contrasted. For sure I preferred the latter.

However, what made a lasting impression on me was not an Iranian woman. It was in fact a
Korean girl in Shiraz. She was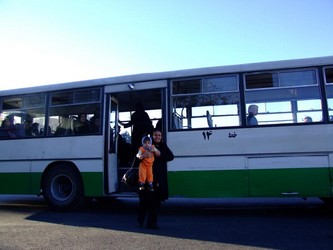 about 25, and solo travelling. We teamed up for a few days and got on well. On one occasion we took a local bus out to Hafez Tomb. She entered the back of the bus as segregation is in place there, and I through the front. I thought nothing of it as I entered.

I looked around for my friend to talk about the tomb, only to see her little face peering out over a heavy metal barrier the divided the buses interior into two halves.  She looked over at me as the thick crowd of covered women behind her all bustled of a place. I sat down in the near empty men's section and felt as if visiting my wife in prison.

For all the great sites I visited in Iran, the people I met, and journey itself. I came away with women on my mind. I found Iranian women to be well educated, quick witted, and a delight to converse with. They seemed to be an underlying power and an intellectual workforce that were kept in the shadows. I relish the day when they can, or when they want, this is shown to the world.