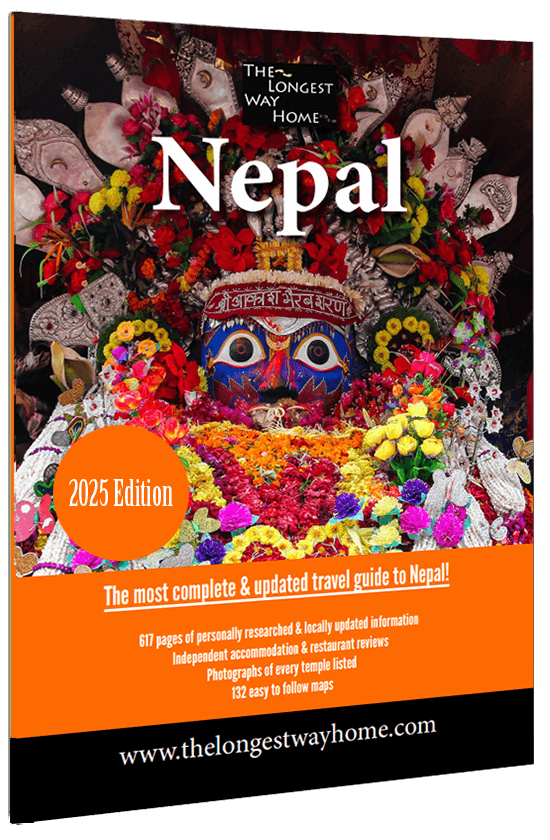 Look inside
545 color pages of personally researched & locally updated information for all budgets!
This guidebook contains all the following great attractions in: Kathmandu Valley, Bhaktapur, Patan, Kirtipur, Thimi, Panauti, Dhulikhel, Nuwakot, Chitwan, Bardia, Pokhara, Sindhuli Gadhi, Haleshi Mahadev, plus all the First Time Trekking in Nepal book features from Everest Base Camp to Annapurna Trekking & much more! See the full table of contents here

Special offer

Get the Nepal Guidebook digital edition plus the Kathmandu Valley Heritage Walks digital edition together. 50% off this book
What's the difference in paying for a travel guidebook with Bitcoin/crypto versus a credit card?
You get the same great guidebook but avoid credit card/PayPal fees so you can buy it at a cheaper price! Simple as that!

Plus all the other cryptocurrency benefits like secure transactions and speed.

This is also the first travel guidebook ever sold using crypto so you are making a little history too!!
You get the Same Great Digital Guidebook to Nepal
A full 538 page guidebook to Nepal containing all the guidebooks on this page plus chapters on Eastern Nepal, preparation, history, visas, culture, language, references & index. Includes: Kathmandu Valley, Kathmandu city, Bhaktapur, Patan, Boudhanath, Pashupatinath, Pokhara, Chitwan, Bardia, Lumbini, Trekking in Nepal & more ...

Buy now using Litecoin, DASH or Bitcoin for the equivalent of just USD$16.99!



Buy now!


Instructions: once you click on a cryptocurrency button above a new page will open - enter in the requested details - follow the instructions to make the payment. Once the payment is made and confirmed you can download your guidebook immediately!

You can still pay with credit card or PayPal here
Secure https checkout
Immediate download of guidebook
No registration required
No spam follow-ups