The March 14th 2008 Riots in Lhasa, Tibet
It was a defining time in my journey, and a defining moment for Tibet. On March 14th 2008, years of resentment and hatred spewed out into violent riots for freedom that saw Tibet's capital city turn into a war zone.
Facts about the riots in Tibet:
The riots are also known as the 2008 Tibetan Uprising, and in China as 3-14 Riots
March 10 commemorates the first uprising in 1959 against the presence of the People's Republic of China in Tibet
China maintains that Tibet has been a part of China since the 13th century
China had no effective control over Tibet between 1912 to 1951
In 1949, the People's Republic of China was formally proclaimed in Beijing and in 1950 launched an armed invasion of Tibet.
The U.S.A. U.K, and all other nations have all publicly noted that Tibet is a part of China
Chinese media stated that 18 civilians were killed by rioters in March 2008
Chinese Police used cattle prods, batons & tear gas to dispel the rioters
The rioters focused violence upon Han and Hui Chinese civilians
The Tibetan government-in-exile claimed that 19 Tibetan rioters were shot dead during the riots
Specific buildings were marked with white scarves the day before the riots
Beijing launched an aggressive campaign stating that no foreigners were in Tibet at the time, when clearly there was (me for one)
Door to door searches were performed based on CCTV footage of rioters
The riots sparked further protests and violent demonstrations throughout Tibet and internationally
The story behind this photograph
I was traveling overland from Nepal to Tibet and on into mainland China. Delayed due to the horrendous snow storms in early 2008 in southern China I was had secured a "single" group Tibetan permit and entered.
I won't go into depth here as I've already written about my experiences during the 2008 Tibet riots here.
The story behind this photograph is exactly what it depicts. A Chinese Tank with soldiers closing in on a group of Tibetans sheltering outside a burning building.
It was already late afternoon and the Chinese army were making their first push into Lhasa. People on the streets were either looting, running from mobs of rioters, or simply trying to shelter from potential violence.
Buildings were being set on fire. Lone, and small groups of people were seeking cover from explosions, debris, fire, gunshots, rioters, mobs, police, and soldiers.
What happened next is that the people here were taken away, without violence. It was more a rush of panic and fear.
On the roofs of surrounding buildings Tibetan's shouted angrily  and jeered at the soldiers below. Meanwhile a near unending charge of more tanks, armored personnel and armed soldiers ploughed into Lhasa.
In regards to photographs and video taken during the riots.
I bore witness to international media outlets offering sums upwards of USD$10,000 for photographic, video and eyewitness reports of what was happening on the ground. I also was witness to several people accepting these offers.
A more defining moment occurred when I also bore witness to local Tibetans who had helped foreigners escape the violence state their fear over being seen, or become a victim of mistaken identity and arrested due to this footage.
During those few days authorities were doing house to house searches. CCTV footage from international media was being used to identify people found on the streets. Not just single people were being arrested, but whole families.
Whether these people were in the right or wrong for rioting. I could not, and still can not, sell nor publish any materials that may result in people who actively sacrificed their safety to ensure my, and other foreigners, safety during this time.
It simply does not sit right with me morally.
Any photographs I have published have been blurred out, and identifying features removed as you will see if you choose to read the above articles I wrote.
This is the story behind just one, of many photographs I took during the 2008 Tibet riots.
---
Next week I will publish a more in-depth feature article about traveling in Tibet. For now, I simply remember this day.
---
Discover more great travel photographs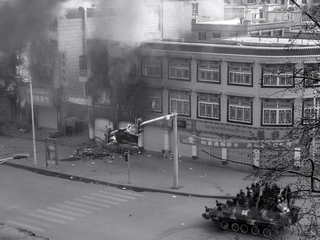 This is an additional photograph feature from my world travel photography gallery, documenting the story behind the picture 
Please take a moment to leave a comment and share this photograph using your favorite social network