Colorful boats from The Philippines are also known as Bankas
If you ever go to The Philippines make sure you get time for some island hopping. You'll be treated to a ride on one of these colorful boats in The Philippines also known as "Bankas".
Facts about Bankas:
Bankas come in different sizes and can transport anywhere between 1 and 20 people
The boats can be both motorized, or simply have a man with a paddle
They are not just for tourists, they are genuinely used for local activities such as fishing, and transporting people between islands
Bankas are traditionally painted in bright colors
These colorful boats are relatively safe, mainly due to the fact they never venture that far into the sea.
Caution should be taken when taking one in choppy waters. An example of this is the popular Sabang to El Nido trip which is about 8 hours. Take care on this particular boat trip as it's run mainly for the tourists and profit often comes before safety.
The story behind this photograph
I took this photograph on a small sand bar island off the volcanic island of Camigiun. Nicknamed the island born of fire.
Surrounding Camigin island are several sandbar "islands". These are simply small raised strips of sand that come and go with the tide. Many locals take advantage of short day trips out to these islands to picnic and enjoy the isolation of it all.
If you stay on Camigiun island, make sure you take a ride on one of the many Banka's that offer these trips to both the sand bars and the sunken cemetery.
I took quite a few of photographs of these boats that morning. And then, much later, chose to use one for my Philippines guide page. Little did I know but I chose the one photo with a rather rude pose going on!
See if you can spot it and let me know in the comments?
Discover more great travel photographs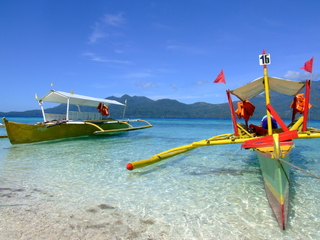 This is an additional photograph feature from my world travel photography gallery, detailing the story behind the picture 
Please take a moment to leave a comment and share this photograph using your favorite social network