A Chinese acrobat balancing 90 glasses
China is famous for its acrobatic circuses rather than animals. There are many nightly shows in Beijing alone with the most famous being at the Chaoyang Theatre.
The shows take place twice a day and are popular with tourists, local business people (after work) and expats. Stung bicycling, fire stunts, trapeze artists and contortion acts are some of the most popular acts.
The story behind this photograph
Normally I would not partake in a very "touristy" attraction and the Chaoyang Theatre is certainly marketed hard in hotels across the capital. On this occasion there was good price on a ticket and I had nothing else planned so I went along.
The theater itself is quite small but with comfortable seats it was not over crowded and there was a clear view of the stage no matter who was in front of you. The whole show was more about acrobatic stunts than storytelling and if you take it like that, then it's a good show.
Acrobats jumping through hoops of fire, bending themselves into contortions and creating huge human pyramids were among the best acts. This girl had a balancing act involving about 90 glasses. She walked out with them ready stacked and then managed to load them all up before bending into different positions without breaking any.
At the end of the act she then took each glass down so you could see there was no glue holding them together. At another show she apparently dropped one so at least you know it's genuine! If you are in Beijing and in anyway doubtful about these shows then they are actually quite good value.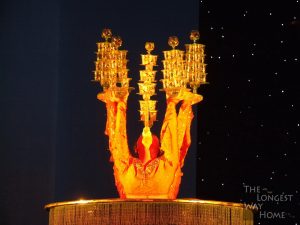 ---
Planning on booking a hotel room here?
Here are the best online rates guaranteed!
I recommend you try my own hotel search.
---
Please take a moment to share this photograph using your favorite social network