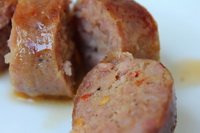 Chiang Mai Sausage
It's not often in South East Asia I come across a substantial amount of pure meat. Granted sausage isn't technically that either but it can be very tasty and meaty if you know what to look for. In this case head to North Thailand and seek out Sai ua. Or, as it is commonly known, Chiang Mai sausage.
What is Chiang Mai sausage?
There are many variations of Sai ua even within Chiang Mai's touristic old city. From supermarkets to butchers the most common, and best, place to find Chiang Mai sausage is at a night market.
You can't help but notice the wooden skewers propping up single portion sausages or the circular curls of longer sausages. Each one made from a blend of minced pork meat, herbs and spices. Spices invariably include chili in amble doses so do ask for "Not spicy" if that's what you are looking for.
Other variations of sausage include thin vermicelli stuffing (this is so good), rice, lemongrass, peppercorns and the list goes on.
Where to find Chiang Mai sausage?
Sai Ua is found all over northern Thailand. From supermarkets to night markets you can pick up a ready to eat sausage for a few baht.
These days throughout Thailand what is now popularly known as "Chiang Mai sausage" is becoming more widely available. So no, you don't have to go all the way to Chiang Mai just to eat Chiang Mai sausage!
This is an additional post featuring food in Thailand
---
Planning on booking a hotel room in Bangkok or Chiang Mai?
Here are the best online rates guaranteed!
I recommend you try my own hotel search for Bangkok and my hotel search for Chiang Mai
---