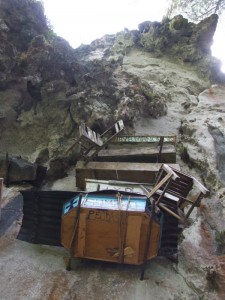 It was the first time I was alone since arriving in the Philippines. After making sure Lu was okay at the hotel I was back at the coffins. I'd dodged a few of the guides again. Avoiding the pleas that it was impossible to locate them without a guide, and one chap telling me about the dangers involved.
I spent some time reading up on the whole coffin process. And learned how a family member would stay with the deceased for a period of time. And by stay, they meant stay with them as they hung in a coffin. I looked up and caught a glimpse of a chair suspended beside one, maybe they took it literally?
Venturing into one of the many caves scattered throughout the area I couldn't help but be fascinated by this tradition. After the Chinese Pyramids it was interesting to see another Asian burial rite up close.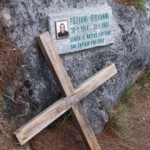 My trek was somewhat rushed as evening was moving in. But it was enjoyable and good to get away from the touts who said it couldn't be done. No sooner had I let my curiosity take me further into the surrounding valley though, when I came across a memorial for an Italian tourist. Apparently he'd ventured off too close to the valley cliffs and went over. Not a hard thing to do I noticed. The ground was deceptively prone to giving away, hidden under long grass as it was. For sure it was time to head back to town.
Thinking of the following day, along the way I stopped off to check out about the famous caving at the tourist office. Here I once again learned that Philippino signage, is not always so easy to read. Confusion reigned.
400 pesos half day full guide – 800, full day full rate motorbike guide – 1500 Full day guide with map.
The wall poster made little sense. Unfortunately the larger sign in the office did. "Mandatory guide for Sumaging Cave"
After the freedom of Nepal, and even China. I felt smothered by the 'have to have a guide' attitude of the Philippines' I left and ventured up a little further in the town. Along the way I noticed a guy standing by a second tour agency. Randy, introduced himself with a smile.
"I have no money my friend." I replied back before he could go any further.
He gave me his number and explained that the only official tourist guide office had just broken into two. Rates were competitive now. He offered to show us a burial cave with a full day of caving for half the price the official – or was it now, unofficial tourist office offered. I nodded and said I'd give him a call in the morning.
Looking back across the town the cool evening mist started to move in.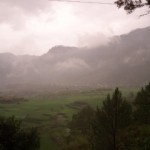 I could smell the BBQ's starting up again. I still wasn't clicking to the Philippines. It seemed so very commercial. In the cities it was malls and fast food, in the remoter areas it was pay for this and tour for that. I was missing my overland route … But I also realized the pit falls of travel for my chosen venture.
Travel is an addiction. Or rather the attributes a traveler entails are additive. When something was not so good, you could move on. Life on the go always brings about something new. Perhaps that's the biggest addictive quality. Always something new, with a dash of 'ability to move on'. My biggest responsibility is to find a home. Responsibility is rebuked by travel. I have to do something about it …