Travel Journal Overview – The Philippines: After the first flight in a long time, and a new country I arrived in the Philippines.

Like all good pre-departures people had filled my head with horror stories about Manila. Big, grid locked traffic, pollution, thieves, dirty and just about the worst place you would want to be. Strangely, like in so many countries, most of this came from Filipino's!
To make matters even more interesting the flight arrived at 4am. Immigration planted a free 21 day visa into my passport, and customs ushered me through without question. So far so good. Outside in the waiting area a people all bustled by and headed out into the dark night to find a taxi.
I find it amusing that most lone travelers rarely strike up conversation on the plane, or at departure. Here was a different story. A group of five huddled together near the exit as two taxi men and hotel touts did battle over dollars. While a slightly more experienced couple at the back stayed to the side to try and take note of the new surroundings. Sadly they were soon set upon by baggage man.
I was without a guide book and had only a mental note of where I had been recommend to go. I took my phone out and pretended to be talking to someone as I took wikitravel's advice and took an immediate left. The ATM's. I had no peso. The phone trick always worked. Touts saw you as having a local sim or contact, and would veer away to more likely prey. I took out 1000, and waited for the crowd to disperse. At the lost minute I forgot the conversion rates, and thought 1000 was a lot.
After peering out the glass windows I spotted the prepaid taxi booth and made my way out. Along the way I over heard a lone American girl ask the security guard where she could change money. She wasn't getting very far.
"They got rid of the touts," I interjected. "You have to wait until the banks are open or use the ATM behind you."
The girl looked up at me in silent surprise.
I shrugged.
"I just want to get to my connection flight to Palawan?!" she blurted. "It's meant to be dangerous in Manila so I don't want to go anywhere alone."
I thought about it for a minute. Then Nodded.
"The security guard here says I can change dollars not far from here." she continued. The guard looked away from me.
I kicked myself into not offering into being a chaperon. "Well, in that case I would say use the ATM behind you. Then change your dollars when you arrive."
She nodded agreeing and followed me out to the taxi area. "Are you getting a taxi alone?"
Faces and heads all turned towards me. Well done young miss. I shook my head, 'No I have a friend over here." Then hoped she would not follow along.
In fact getting a taxi alone was the highlight of my first day. A very nice chap from the North took me for 300 pesos to Sucat. An area neat the airport. He couldn't find the place straight away, but was good enough to ask a few people. And even help me with my bags. It was strange as the hotel had been recommend to me by some Filipino's I knew. Surely that was good as any recommendation. They'd even reserved the room for me.
Hotel found I brushed the cockroach off the stain sheets and wondered why it was costing 700 pesos for a room with 12 hours of air conditioning, no water supply and a heap of mosquitoes. Two room changes later and the less than impressive staff had at least found me a room with running water.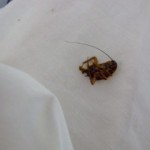 I caught up on some sleep before heading out into the humid heat. I was expecting Vince, and old Filipino work colleague of mine later on that day. More over I wanted the internet to locate my another hotel. Within 10 minutes I found one around the corner. 750 pesos, for a biggish room A/C and everything was spotless. For only fifty pesos more, it was a sure thing I would more there tomorrow.
I walked the wide streets of Sukat and was taken back by the bright colorful Jeepney's mixed with, rickshaws and squat cycle rickshaws that roam the streets. Colourful, strangely designed and quite appealing. At least the jeepney's. The cycle rickshaws were seriously on the small side for my frame.
Lunch consisted of a bbq sticks and rice. BBQ chickens seemed to offered from most street corners .Though not a fan of rice, I was again happy to see at least some sort of pasta rice noodle available. Not to mention the Philippines now obvious liking of meat. People were not too caught up in seeing a tourist either. No one grabbed at me, nor pointed. Maybe I was in the right part of town?
The streets were dusty and the stores had an American look to them. In fact the American influence was every evident just about everywhere. Yet the Jeepney's and rickshaws kept it Asian enough to know it was the Philippines.
By 4.30 I was back at the first hotel. Vince had arrived and was talking with the lady who so dutifully showed me many a cockroach splattered sheet that morning.
Greetings over, he frowned. "She says you owe her money?"
I looked at Vince and took out my receipt. "I paid, see."
Vince looked and nodded. The woman went off in Filipino. I stopped the conversation before the age old screw the tourist conversation started in local dialog. "English please, you could do it this morning when I check in. You can do it now."
She smiled bitterly. "You're checkout time has passed."
"How can my check out time pass when I checked in at 5am, told you at 1pm I was going out and am now back at 5pm?"
"You paid for only 12 hours!"
The conversation continued on for some time. Until finally the strangest quirk in all hotels and hostels I have ever stayed at came about.
Vince then explained that I had allegedly elected to pay 700 pesos for an AC room for 12 hours, rather than 850 pesos for a room for 24 hours A/C.
It did not sit well with me. The sign was clear in reception. A room with 12 hours Air con 700, with 24 hours air-con 800.
And that was the mistake I had made. What the sign says, is not what was meant. What apparently happens in Manila, is that you pay either per hour, 6 hour, 12 hours or 24 hours. Or unless you ask, and possibly record with witnesses, what ever time they feel like it. Meaning checking in at 5am and paying for a room with 12 hours of Air-conditioning means your check out was at 5pm.
Now if the mis-communication was not bad enough. The fact that I was now overdue by 30minutes meant paying another 700 pesos and checking out at 5am. Any given this. I lost the plot and threatened them with false advertising. Thankfully when looking online for a new hotel I'd checked out the rates of the place I was staying at, just to confirm. No mention of hourly rates, no 12 hour shifts. Just a per night rate.
I then headed outside to look for the police. It was enough. With heads nodding and doors opening I fetched my bags and stormed off to the new hotel.
Again another 24 hour check in law was enforce. However this time, I not only was I checking in a decent time. But I managed to bargain a better price for less hours.
Welcome to Manila: with nice taxi men, but pre-set timer check in hotels. Something was up in the land of the more than usual.