The Prisoners at Iwahig Penal Colony in The Philippines
I walked up alongside the recreation hall and passed by a group of prisoners.
"Taste honey?"
For a second I stopped and wondered if they were using some prison slang to do with the man with boobs I'd just avoided. But it turned out to be innocent. Well as innocent as you can get in a prison.
My first encounter with Philippine honey was at Iwahig Prison: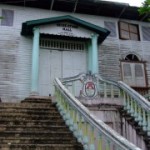 I like honey and in the Philippines it's one of those rare places where it can taste very different. Here I took a finger tip from a bottle and got the unique flavor of banana. Whether it's flavored that way, or whether the man didn't wash the bottle (yes I know) or whether bee's pollinate banana I don't know. But, it tasted good.
Again I was asked to enter the recreation hall, this time by the group and not a single sleazy man. I looked up at the old steps and decided to have a look. Inside there was what looked like a basketball court come badminton court set up. Two very popular sports in the Philippines. At the far end was an open window looking out over the prison. And, a lone man sitting there.
A conversation with a prisoner at Iwahig prison:
By the time I'd walked to the end of the recreation hall I noticed the latter half I had come in through now had about 10 prisoners gathering around with more piling in. I began to wonder if I was just set up. I nodded to the man sitting on some steps, and looked out the window. It was nothing too special, some tin roofed buildings with a lot of barbed wire.
"Maximum and medium security blocks."
I looked down at the bespectacled man as he wrote in a little notepad. "And they want you to buy an inmate t-shirt," he said nodding at the slowly approaching group.
" Ah," I nodded back. "I know, but I don't need a t-shirt."
"It's a good price."
The man's accent was very different to any other Filipino accent I'd come across. I recognized it from somewhere, but could quite place where.
"I travel a lot, it's too heavy in this heat."
He nodded and then slightly twitched his head at the approaching group causing them to stop. "I've traveled to."
"Whereabout's"
He paused a while. "Little of everywhere."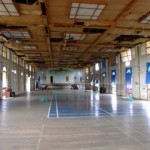 "I recognize your accent, can't place it though."
"And you, where are you from?"
"Same place as you at this stage, a little bit of everywhere?"
The man laughed the retaliatory comment off and we spoke for a while about the prison. Travel and strangely enough about oil. He was in for life. Though he said it in a way and a look that meant it wasn't going to happen. He walked me back to the main entrance and the by now large group of inmates that had gathered parted ways.
"Where to next?"  he asked as I left.
"To find home," I replied. "But maybe not here eh? And you?"
"Same thing."
Exploring around Iwahig penal colony:
With that I took a walk to the other side of the prison where the inmates lived. Car's, motorbikes, bicycles were all parked in little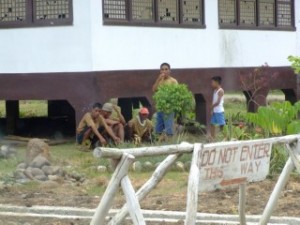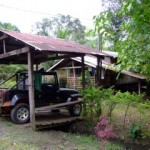 driveways and I wondered if this too was where the prisoners lived? I asked a few roaming inmates and got confirming nods and the odd question.
I stopped by a little sari sari store and bought some chocolate cake and a bottle of water. It was indeed a very, very bizarre place.
The shopkeeper told me something about staff living here too. But I couldn't see any. Just inmates. There were some more broken down looking houses the further down I walked. But the amount of cars parked around was quite staggering.
Afternoon was moving on and I wanted to get to Puerto Princesa to look for a place for the night before it got dark. Back at the store I hailed a tricycle and asked how much to Peurto?
"100 pesos"
Maximum security at the Prison:
At just then a little mini van drove by. By the looks of it a bus. 40 pesos. I hopped on board the front seat and was greeted by a very large man who knew of the hostel I wanted to go to and offered to take me there. Filipino hospitality once again strikes.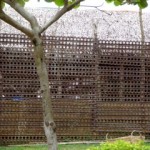 First though, it was time to pick up the visiting families at the medium security detention center. Here I was greeted by loud cheers from behind makeshift bars. And here, I saw a guard at last. A single guard sitting relaxed back in a chair drinking something with some inmates.
A few women and children left the heavy gates. Followed by a heap of inmates all waving at me with big smiles.
"Americano!! Welcome, come inside!"
I laughed and pulled out my camera.Then the smiles stopped from a few and they wagged their fingers and turned their heads. I shrugged and put the camera down as they approached.
A hand extended itself towards me by a heavily tattooed man. His left cheek and neck showing several deep scars. I took his hand and shook it firmly.
Another hand appeared, and then another. Followed by greetings and invitations to come inside. If I'd not had my bag with me I would have been tempted. But loosing that plus laptop would not have been good. Questions came and went from the inmates as the bus filled up. A few helped pack up the mini can with radios, TV's and a carpet. I didn't question why or how all these things were appearing until later.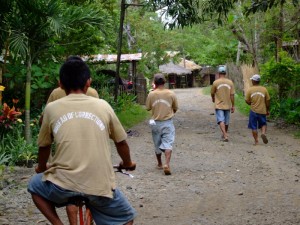 With parting waves, a few heckles, and the odd look of want we drove off from the prison block. There was and is a lot more to the place than I could discover in my short trip there. Whether the process worked or not I don't know.
What I do know is that Iwahig Prison and Penal farm is worth the visit as it's surely one of the most bizarre and interesting places one can visit in the world.
---
I've had a number of inquiries from friends and relatives asking about how to get in touch with inmates at the Iwahig Prison & Penal Farm in Palawan, The Philippines. The best I can suggest is you contact:
Bureau of Corrections
NBP Reservation, Muntinlupa City
Philippines, 1777
Telephone: +632 850-50-02
Telephone: +632 807-23-68
Website : bucor.gov.ph
---
Coming soon:
On the monkey trail in Sabang, home of the world's longest underground river
Followed by How to live on an island when your sick. Why? Because I get quite sick!