A hillwalkers ten year journey to climb Mount Everest
There's something wonderfully apt about reading a book largely based around the country you're currently traveling in. Likewise there's something addictive about the pinnacle of mountaineering that is the summit of Mount Everest. Who hasn't thought about climbing Everest at least once in their lives?
I've known Mark Horrell through his excellent Everest and mountainering blog www.markhorrell.com for some time now. I knew he was a mountaineer but I never knew how he came to be one.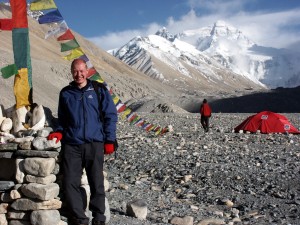 I thought he was another wealthy mountaineer type. But I was wrong.
His story is a fascinating insight into one ordinary man's journey from being a hill walker in England to the 8,000 meter climbers club to the very top of the world.
This book is about the journey
While some mountaineering books might leave you with Everest sized portions of egotism or disaster stuck doom Seven Steps from Snowdon to Everest delivers a refreshing look at an "accidental mountaineer".
Mark never set out to climb some of the world's highest peaks. In fact early on in the book it's his brother that seems more inclined to be the mountaineering type than Mark. Therein lies the beauty of this book. It's a book about an ordinary man's journey. Moreover, it's a book we can all relate to.
Impeccably researched material
One of the most enjoyable parts of Seven steps from Snowdon to Everest is the advice Mark gives as he learns through the experience of others and through his own mistakes along the way. On top of this Mark is quite the mountaineering historian and sprinkles interesting snippets throughout the book about great climbers of the past.
None of this is overdone to the point of dry technicalities but instead Mark uses the past to emphasise his thoughts on his current or a future climb. There's some riveting thoughts going through Mark's mind as he recalls Mallory's fateful journey and intertwines it with his own. It's a great insight for anyone thinking of climbing any mountain.
More than Everest
There's far more than just one big climb in this book. It's a ten year journey that starts with hill walking in the UK. Then we see Mark literally take on some well prepared grannies on simple trek in Nepal. From their it's destiny in the waiting.
Mark wisely decides never to be outdone by a granny again and tackles other mountains around the world to gain experience.
It's here on these journeys that sees Mark, and us, learn from each mountain he tries to climb. Not every trip is a success but they are all building up to the "big one".
Along the way we learn a lot about the practicalities of mountaineering from every mountaineers secret "poo bags" to the more chilling aspects of mountain graveyards. All the while Mark leaves us wondering if he is making the right decisions or not.
From practicalities to real life
Do you have to be a millionaire to climb Everest? Mark wasn't. Far from it.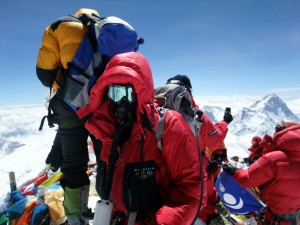 Throughout the book we learn how Mark saved money every year to take on these mountain expeditions that led him to Everest. How he dealt with overcoming injuries, lethargy, work issues and personal conflicts along the way.
In other words, Mark comes across as a normal everyday person that we can all relate to as he takes on what many consider substantial challenges and achievements.
A great read or gift for anyone thinking of going for a hill walk, trek or taking on Everest
Have you ever wondered what it's "really" like to climb the world's tallest mountain? Now is your chance to read what it's like for an everyday person.
Mark Horrell takes us on a highly enjoyable journey of hill walking, trekking and mountaineering steps that leads him to the top of the world.
It's this journey of learning and self discovery that makes Seven Steps from Snowdon to Everest a great read for anyone contemplating any mountain climb, or hillwalk, anywhere in the world.
Purchase options:
If you'd like to buy this book, please consider purchasing it through my Amazon affiliate stores below or directly from www.markhorrell.com:
Seven Steps from Snowdon to Everest (Amazon USA)

Seven Steps from Snowdon to Everest? (Amazon UK)