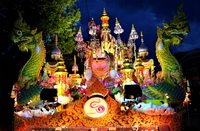 Yee Peng's big parade in Chiang Mai
Two full days of festival in (Nov 16th & 17th) or rather two full nights of festival later and it's now day three of the Yee Peng celebrations in Chiang Mai. After an exceedingly long sleep in the streets of Chiang Mai looked as if there was something amiss today.
Cars were back on the roads with mopeds buzzing up and down as per the norm. The streets in the old city were full or tourists looking  a bit bored and once again they seemed to outnumber the Thais. And that was what was missing. Thais.
It seemed as if the city had lost the vast majority of its population. As Loi Krathong is a national celebration many Thais travel from all over the country to holiday spots. Chiang Mai was one. Today was the last day of the festival so many had obviously opted to head home for work the next day.
Waiting around for the parade
I too wondered if it would be worth waiting around for the big Yee Peng parade. After all how exciting are parades? Lot's of marching army types, police, some girls in short skirts. A couple of old trucks with tinsel. What's more it was all happening at night. So that left all day to wander around.
I revisited Wat Pan Tao only to see the torches from two nights ago's fiasco of an evening still strewn around the grounds. The monks must have been having a sleep in too as there were none in sight. Maybe the photographers had kidnapped them for some more "exclusive" shots? Meh.
With little else happening I stopped off for a coffee at a much nicer wat. I sat there watching a smiling young monk practice Thai with an old German lady of ample cleavage and tried not to think about this scenario too much.
The Parade gets ready to kick off
As evening came Chiang Mai was getting back to normal. The Burrito cafes and Hamburger joints near Thae Pae gate were filling up with tourists and expats "experiencing" life in Chiang Mai as were the other half in the bars drinking imported beers. Maybe I should have gone to Chiang Rai today after all?
Passing the Gate I saw a few decorative floats as dusk began to fall. They were quite alright actually. Elaborately decorated at the very least. There was already a crowd growing so I decided to make a quick stop off at the gathering floats away from the starting point. If they weren't up to much then I'd head back to the hotel rather than wait around.
My mind quickly changed a few floats down. The Thai parade performers were coming out in epic style. The ladies were dressed in a mix of traditional dress and full on elaborate glamor dresses. The men seemed to have a topless theme going on and also seemed to be wearing far too much make-up for a parade. But, it was all light-hearted with big smiles all around.
Moreover the floats were far from beat up old trucks. They were huge elaborate and intricately decorated works of art. Finally a parade that actually seemed to be proud of being a parade!
Watching the Yee Peng parade
By now I was very happy I'd stuck around. It was dark and the parade was already underway by the time I'd reached a good opening with a less of crowd. Around me were more local Thai's than tourists once again. Children were out with their parents and people were happily sticking their phones and giant tablets up at the passing floats to take photos.
What a spectacle the floats were too. Most were so well-lit up they required their own generators to follow on behind them. Men, women and children sat up high in stunning costumes waving at the crowd with huge smiles. They were the stars of the parade and they were putting on a great show.
The very best of the floats had loudspeakers attached and someone telling the story of how the float was decorated. From a university's history to tribal dresses and ancient traditions. I've never seen so much effort go into explains it all.
Getting in close with the Parade
While there were police and officials around no one objected to people walking up close to the participants when they stopped every few hundred feet or so. That was the idea it seemed. There was no rush here and everyone got a chance to take a photo, listen to the history the float was representing or indeed for some of the parade participants to interact with the children in the crowd.
It was this interaction that made the parade so good. You could wave up at the most glamorous of models and they'd stop looking around and just pose perfectly for you. Sometimes it was a little much, but most of the time is was just good fun.
A break in the weather
It started with a few cold droplets. I wondered if it could be … Yes, a few minutes later and a light rain stared to come down. The parade stopped and a girl in front of me was clearly getting worried as her costume was not weather proof.
The next participants were a series of Thai men wearing very little so I wasn't too worried. But the rain got heavier. This didn't seem to be just a passing shower. The parade participants were starting to look very wet indeed.
The ladies in particular were suffering from running makeup. The decorative floats seemed sure to be sodden blobs quite soon. But in fairness to the Thais they kept the show going.
Incoming thunderstorm
The lightning above told me it was time to leave. It was a thunderstorm and not a an hour or two of mere rain. I'd been sheltering with some monks under some paper lanterns … well it was either that or do battle with tourists outside a 7-11. So I stepped out into the parade and went in the opposite direction.
Walking passed bars filled with tourists sitting under balconies staring out at the soggy performers on the street before them. The rains got heavier. And still the show went on.
Back at Thai Pae gate and the rain had become an utter downpour. The type that makes it hard to see in front of you. I took shelter behind a portable bar filled with tourists and then under a closed massage parlors roof.
The parades floats had finally shut off their generators and looked a little lost. No one seemed to know if they should continue on or head for shelter. Girls wearing traditional costumes danced by in the torrential rain. They still smiled. The costumes still sparkled. The rain still pelted them. It all looked so pointless and cruel.
Then out of nowhere a group of Thai's erupted into a huge cheer for the passing girls. The smiles got stronger and they danced a bit harder in the rain.
It was such a show of pride that it all seemed to make the evening that bit more worth while.
The Yee Peng Parade: a wash out or a triumph?
My estimation is that at least one-third of the parade was cut short due to the storm. I did feel sad for the people in the parade that did not get to show off their floats or costumes. It was obvious there had been an incredible effort in preparing for this day.
The smiles and friendliness of the Thais that did get to perform was a credit to the performers. The floats were as beautiful as I've seen anywhere in the world.
Not being a "parade" person myself I can honestly say it was worth staying on for. If there are people with families thinking of attending Yee Peng or Loi Krathong in Chiang Mai in the future then staying for the parade is worth it.
The days after Yee Peng / Loi Krathong in Chiang Mai
In summary the day after the Yee Peng parade in Chiang Mai it's as if someone just pulled the plug on the whole festival. Even the colorful lanterns by the three kings monument are turned off. It's a shame really.
So if you are hoping to see some of the lit up lanterns and so on after Yee Peng or if you'll only be arriving late then you will be disappointed. If you can't attended Yee Peng in Chiang Mai but can either arrive before or after the festival then try to arrive before. There's a little more going on then.
Summary of the three days in Chiang Mai for Yee Peng / Loi Krathong
I met up with some other travelers after the festivals and the consensus was unanimous. The best thing about Yee Peng was undoubtedly the Yee Peng Lantern release on day one.
Most people said they didn't "get" Loi Krathong on day two and only saw some fireworks. The younger backpackers made efforts to say they got drunk and set off fireworks. The older crowd said they found the firecrackers disturbing so stuck to releasing some more sky lanterns.  The crowds were too much and that was about it.
As for the parade on day three most people again nodded that it was really good aside for the weather. Again it didn't appeal to the backpacker scene too much.
So there you have it. Three days of the Yee Peng Festival in Chiang Mai
For me if I were to advise anyone about attending Yee Peng I'd say the following.
Get to Chiang Mai at least two days before it starts
Go out of your way to see the lantern release behind Mai Jo University
On the second day if you are searching for a party make sure you have travel insurance and find the fire-cracking street parties by Nawarat Road and bridge. If you are travelers in search of experiences and culture then head to river banks near the bridges below Narawat on the river Ping. It's crowed, but don't freak out. Just sit down right at the river's edge and watch it all.
On the third day I'd tell party goers in search of a party to go find one in the usual spots. For families and people looking for some amazingly well decorated floats and Thais then find a spot on the parade route to enjoy it all.
If you only have one day to spare for Yee Peng then make it to the lantern release.
For more information on where exactly to see the events on each day, maps and lot's more check out my guides for all three days: 
Due to a lack of fast internet I'm writing behind in time. For me, the next post is a travel journal which happened before the festival which explains how I got there by a series of fortunate events. After that I'll bring you an exclusive on the monks who make the colorful paper lanterns for Yee Peng and the man who teaches them – stay tuned, it's a pretty nice story.
---
Planning on booking a hotel room in Chiang Mai for Yee Peng?
Here are the best online rates guaranteed!
I recommend you try my own hotel search for Chiang Mai.
Accommodation for Yee Peng in Chiang Mai books out quickly so remember to book well in advance!
---
Coming Soon:
A series of fortunate and unfortunate events that led to a journey to Chiang Mai