Travel Journal Overview: It's not at all strange how today's politics can interfere with travel plans. Instead of enjoying my self and seeking out a great new opportunity for finding home, I had to get my visas sorted.  Again in my book it's another turning point, not a major one. But a game of chance, luck, and being at the right place all paid off.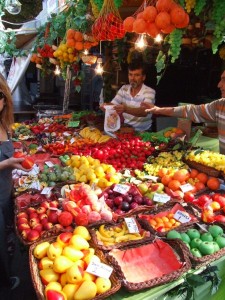 After waving goodbye to Allen, I once again hit the streets on the Embassy trail. This time I was once again accompanied by Reagan and a German cyclist who had checked in the night before. Apparently having cycled from Italy to Turkey, and one minor crash. I think by now we had all given up on Itchy, so we left him with his laptop, studying something about Afghanistan USA relations. Also Bong, a S.Korean guy showed up in a similar search for visas, this guy would eventually end up being nearly as unplanned as Itchy, but slightly less frustrating.
The day led to many revelations on Embassies, and my time in Nigeria surrounded by diplomats had me prepared for many of the results. Sufficed to say I started to get the impression Istanbul was not the best place to start the application process. Aside from escorting me to Embassies we also found ourselves in the Grand Bazzar, and more disappointment for me. It was spotless, clean, well cared for and sold everything from high level jewelery, clothing, silverware and other high end items. Nothing so good that the memories of the giant open market in Marrakesh Morocco.
All my embassy searching also paid off in other ways, as we had found Tikent in the Asian side, the hub of young Asian Istanbul. The main pedestrianized street was teeming with people, bars, modern malls and not a shroud in sight. We sat at a cafe and enjoyed an open air beer, surrounded by young Turks drinking tea and playing what seemed to be the national past time, backgammon. Spurred on by this non touristy side to Istanbul we vowed to come back later in the night. It was Ramadan, and a Monday night, but, we were still determined. Jokes abound about what a Turkish nightclub or bar followed suit. "Backgammon, can you teach me?"
After a prolonged catnap by the German we eventually made it back to our liveliness street in Istanbul, only to find it deserted. A few people were walking around, but on a determined path home. Garbage truck roamed around emptying trash containers, and that was as about exciting as it got. German cyclist was determined to celebrate his adventures cycling conclusion with a nightclub, but the best we found was the sound of Vanilla Ice pumping out of a rather empty looking bar.
Reagan and myself were slowly trying to edge in the direction of the European side, knowing this was a fruitless attempt. But the German continued to pace up and down all the streets, not good for my friction burns which were re-burning. It was just as even he was about to quit that a lone man approached him with the usual Turkish opener "Where are you from?" The German fell for it and for the next 5 minutes Reagan and myself walked on listening to the German falling into the tourist trap. The mention of girls, all night bar, cheap drink and around the corner had the German jumping up and down. I also heard the word taxi mentioned. Surely he would not fall for it??
We shouted, shook our heads and waved for him to come back. But the German Cyclist was already brushing us off and jumping into a yellow cab with the balding older Turkish man as the taxi sped off. Reagan had gone slightly pale as we headed back down the road. Talk of trying to follow them, would he be drugged, mugged, rapped or even all three filled our conversation. It was then we found a small folk bar with live music. Nothing like a beer and a conversation about a young arylet being molested to take us into the early hours.
I have to say that the music was good, and the atmosphere was enjoyable. 30 minutes later and we were joined by our young arrian friend, panting, sweaty and laughing with a slight hint of nervousness. Apparently the bar was empty and that was all he was saying…
I suppose it was during this period that I knew Istanbul would not be the best place for me to find the elusive visas. Reagan was heading off the next day as was I. Olympos, fire mountain of the God's…or Cappadocia cave houses and a short 5 hour trip to Ankara, home of all embassies?… I wanted Olympus, Reagan, stuck for time, wanted Cappadoccia. Hmm, I spent some time and thought hard.
I was not enjoying myself too much because of these damn visas, so I decided to stop enjoying myself altogether and just get them over with. So to the land of Troglodytes, Fairy Chimneys, and Cave Houses it was. As so often happens when traveling, we were a little out of touch with the news. Little did we know, but we had just missed a failed terrorist bomb attack on an Istanbul to Ankara train at the train station we had been at a few hours before, and 12 Turkish soldiers had just been killed by Kurdish rebels. Turkey it seemed was preparing to go to war…
Related Links:
Travel Resources: If your looking for information on how I was able to get Iranian, Pakistani and Indian visas in Turkey, you'll find them in my Overland travel visa help section