Search & book a flight with The Longest Way Home
Since I launched The Longest Way Home I've nearly always had some flight booking affiliate option available. Truth of the matter is commissions from airline/flight bookings via affiliates are extremely low. As in cents or even lower!
However in providing travel resources here I wanted to have some form of flight search available to readers and for myself. After a recent affiliate changed their terms of service I took it upon myself to find or create something a little better. Here it is …
Flight search methods
No flight search system is perfect. Airlines are constantly changing prices, dates, routes and itineraries. Keeping up-to-date with it all is nearly impossible. Couple that with the stingiest profit margins in travel it makes online flight search a difficult area to utilize.
I've always used several flight search engines to get rough prices. Then, once found, I'll always check out the airline directly to see if there's a difference. There usually is!
In picking this system I wanted to cut out as much fluff as possible and simply get the lowest priced flights possible  along with new routes and include budget no frill airlines alongside the big carriers.
All the best flights under one roof
I've combined as many airlines and booking companies as possible from emirates.com, britishairways.com, to cebupacific.com tigerairways.com to ebookers.com, skytours.com and many more into one big flight search engine to give you the widest choice.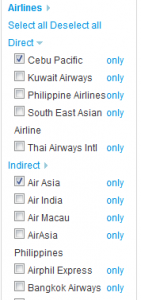 What you get by searching for a flight here on The Longest Way Home:
Search for flights anywhere in the world
Trusted and secure bookings via the above websites
Sort by price, departure time or arrival time
Filter results based on direct/indirect flights, departure or arrival times
Filter results to include or exclude certain airlines
Zoom in and out on the big map to see & link airports directly
Have prices shown in your own currency
Many low cost carriers included
Over 25 languages supported
Prices include all taxes and no extras
Can you find me cheaper flights?
Yes, but you can do better too! I've tried many flight routes using this flight search engine. For example on one flight I tried Bangkok to Kathmandu. I got a return flight offer of $645.
It's cheaper than Thai Airways. But, I happen to know that the Nepal Airlines office in Bangkok offer peak season fares of around USD$500 if you book in person (they don't do online bookings). End of story … not quite.
A few weeks later and just before writing up this article I tried the same search again. Only now an Air India price came in at USA $489. They beat Nepal Airlines price! Granted it's not a direct flight (BKK-DEL-KTM) but the price was better.
I then went direct to Air India's website and tried with them. Result: USD $457.27!
It's not a route I would have orginally thought of. But thanks to my flight search I was able to find a cheaper alternative!
Moral of this story: use my flight search – see the price/route options – then check with the airline itself.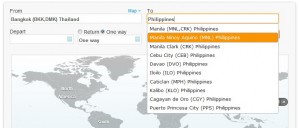 Are all the airlines in there?
No. Due to trade agreements, regional database differences and simple business marketing/sales several airlines pick and choose when or whether they enter into the flight search databases. Air Asia is a prime example as is Cebu Pacific.
However the database of airlines is constantly being updated. So, if and when they do release the information it will instantly show up. Likewise with taxes. I noticed one or two airlines stating taxes etc were included in the price. Only to test book a flight and see that they were still adding to them before buying a ticket (Hello Cebu Pacific). This however is not a fault of the search engine. These same airlines do the same on their own sites too.

An easier way to search for flights online
Everyone has their own way to search for flights online. Just like how I searched for the Bangkok, Thailand to Kathmandu, Nepal flight above you might have your own method. I've been there and opened up 5-7 windows from all those big search engines and ended up getting annoyed by the whole process.
What I wanted here was a one stop shop flight search instead of a generic window popper or limited search. My search is simply designed to find low prices and alternative routes.
Are there better ways to find flight prices online? Yes, I'm sure of it.  A combination of my search plus Skyscanner plus Kayak, Vayama, Flightfox or Googles own matrix.itasoftware.com for example (you can find all those links on my cheap flights resource page).
My advice: find the best price/route with these combinations and then finish up with the resulting airlines own page to purchase said ticket.
For now I'm including my new flight booking & search engine as part of The Longest Way Home. You'll find this button along with my hotel search in the sidebar here to the right and on individual country pages.
Give it a go and see if you can come up with some flight deals or new cheaper routes!
Search for Flights with The Longest Way Home here
This is an additional feature article introducing flight booking and search on The Longest Way Home
---
Shout out of thanks: Many thanks to the team of great people who provided feedback, insight and help on this flight search over the past few months. Including Andreas, Hayadith, Maria and the many others who went above and beyond!
---