Is the best chocolate cake in the world from the Philippines?
I've eaten chocolate cake from Germany, the UK, the USA and various other places around the world that say they make the best. I've picked coco pods in Africa and roasted the beans over a hot stove before grounding them into a natural powder. In other words: I like chocolate. 
I'm not a huge fan of cake, nor sweet breads. However I must say that the Philippines produced the best chocolate cake I've tasted anywhere, period.
That, from me, is saying a lot. The only downside is that I don't want to know the ingredients. Filipinos' are not to fussy about additives and preservatives nor colorings.
Having said that, I have no idea how a black forest gateaux in Germany is made either. What I do know is that Chocolate cake in the Philippines is incredibly moist and is monumentally chocolaty in taste.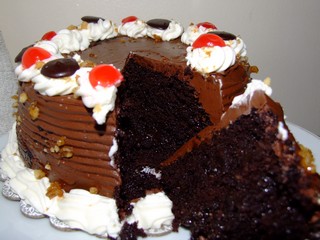 Buying Chocolate cake in The Philippines
If you've ever bought a chocolate cake and tucked into it only to find it's only got a hint of chocolate to it, then head to the Philippines. Go into a bakery and pick up a cake for around 300 pesos, or 400+ in higher class places. I really have to give a shout out to Red Ribbon here.
I've mentioned how great chocolate cake tastes to many Filipinos but they all seemed unimpressed with my ravings. I don't think chocolate is a huge thing to most. It's a little pricey for locals for starters. And confectionery chocolate bars are of poor quality. Limited only to some American brands that really aren't worth mentioning.  So it's not such a huge thing.
However I have met some other travelers who've agreed to this incredible Asian secret: The best chocolate cake in the world can be found in the Philippines!
This post is one of a series featuring Great Food from The Philippines.