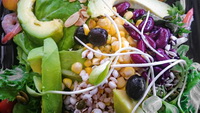 I am a carnivore. The type that's nearly always hungry if they don't have meat in a meal. I do eat loads of vegetables though. But, always with meat.
In Thailand dishes are usually quite small to begin with so I've never once thought of "just" ordering a vegetarian dish. I'd be starving afterwards. That all changed on my most recent trip to Thailand.
I'd eaten a late breakfast and was waiting at a restaurant with a coffee. It was lunch time and I knew I should eat something but I wasn't very hungry, so I took a chance and went with the vegetarian option of rice with mushroom and vegetables.
What arrived was beautifully presented. So very tasty. And, filling. It was the start of a journey into eating vegetarian in Thailand.
The best vegetarian meals I've had were in Thailand
I've tried vegetarian meals from the Americas to Europe to Asia. Some have been tasty but all have been lacking that "something" to ever make me want to come back for another vegetarian meal quite so soon again.
In Thailand I keep coming back.
I've had daily heapings of five mushroom stir fry on a regular basis every week. It's so good. I'm a mushroom lover and the strong flavors of five types of mushroom with five different textures is just wonderful.
Got a super appetite? Try a Thai avocado salad. I wasn't expecting much. But take a look at this plate. It's a huge serving. There's half a large avocado in there. Three types of lettuce. Cherry tomatoes. Olives. Four types of nuts (no peanuts) from sunflower to pumpkin. Sweetcorn, red kidney beans and some grains along with a strawberry vinaigrette.
Yes, if you look closely there are four prawns in there. I didn't know they were in the salad. But after asking for the menu I saw that you can request them to be excluded.  My bad, but hey. I was a mini piscivore and even without them the dish was impressive.
I was stuffed too!
Where to find the best vegetarian meals in Thailand?
Just about anywhere. Most tourist menus will have a healthy number of vegetarian options. What's more menus that have dishes with meat in them will give you a choice of what meat to eat and/or if you just want the vegetarian option.
One of the local places I go to eat offers Kale with pork/chicken or tofu with rice. I do not like tofu at all! So I ask for an egg (ovo-varian) instead. The meals are small, cost 40-50 baht so the egg helps.
The real trick in all this "find the best place for a vegetarian meal" seems to involve "money".
In mid to upper level restaurants vegetarian meals are often around the 120-180 baht level. But wow are they impressively good. Worth it for a dedicated vegetarian needing something substantial after a day out.
The variety of vegetarian dishes in Thailand is impressive
In a local restaurant I counted twenty vegetarian rice dishes and twenty vegetarian noodle dishes. That's impressive. And that's a local place where there's no meal over 80 baht.
Kale, spinach, morning glory, pumpkin, beans, mushrooms the list goes on. With Thailand's diverse ecology it's got some of the best farming lands for vegetables in South East Asia. I've often been in other countries when I'd get a craving for something. In Thailand this is often not a hard thing to solve.
I regularly gorge on mangosteen, rambutan or passion fruits when I'm in Thailand. They are cheap, so good and very tasty. Certainly a lot better for late night snacks than bars of chocolate or starchy snacks from 7-11.
Can eating salads in Thailand make you sick?
I've never been sick eating a salad in Thailand. I do however only eat salads in mid level restaurants.  Not because of safety, but because they are generally better there.
For everywhere else, including rock bottom budget cafes, I've eaten cooked vegetarian food en masse and never once been sick.
Even if you are a meat lover, try a vegetarian option in Thailand at least once!
I drool when I see all the barbeque meats on offer along the night markets in Thailand. I sit down and salivate over the duck dishes, stir fried pork or roasted chicken sizzling away.
I know where to get good kobe steak in Thailand. However, I'm really and truly impressed with vegetarian meals in Thailand.
I make Gordon Ramsey and Bourdain look tame in my finesse for tasty, value for money good nutritious food when traveling
So much am I impressed that I have no hesitation in ordering a mushroom with kale noodle dish anymore. I'm not hungry afterwards at all! The variety and style of fresh cooking makes all the difference.
I've only recently discovered the joy of Thai vegetarian food after many visits to the kingdom. Don't make the same mistake.
I encourage everyone to try a vegetarian meal in Thailand at least once and compare it to other places you've been. I think you'll be as impressed as I was.
This is an additional post featuring Thai food