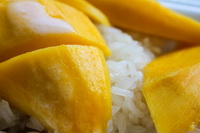 Is mango sticky rice the best dessert in Thailand?
Maybe. It's certainly one of the most common. From street food vendors to 5 star resort restaurants mango sticky rice is easily found everywhere.
While chilling in the air-conditioning of a restaurant with a small plate of mango and sticky rice is nice, there's nothing like just grabbing a take-away tray from a street vendor as a midday snack.
What is mango sticky rice?
The key ingredients here are sweet juicy ripe mangos.  That's what the Thai's say anyway. For everyone else the key ingredient is Thai sticky rice. And, I tend to agree.
Thai sticky rice is unique and you can only use Thai sticky rice to make Thai Mango Sticky rice. Got it? Good.
Thai sticky rice is extra glutenous which makes it so sticky when cooked. Add in coconut milk and sugar which the rice soaks up and you have something pretty special on its own.
However, according to Thais the real key here is getting the sticky rice to match the flavor of the mango! That's one secret learned already …
Adding to Thai mango sticky rice
Many restaurants will add their own uniqueness to the dish from chocolate shavings to sweetcorn or even crunchy puffed rice, Meanwhile out on the streets the traditional method is upheld. The only thing added is a drizzling of condensed milk.
Yes, mango sticky rice is sweet. But that unique tang from mangos combats this wonderfully and so the blends of rice, milk, coconut and mango go beautifully together.
Where to find mango sticky rice?
Mango sticky rice is available just about everywhere throughout Thailand. Prices range from street vendors at 30-50 baht all the way to 150+ baht in a restaurant.
It's a filling dish too. So if all that tasty Thai food being served up in small portions doesn't do the trick for you – try following it up with some Thai mango sticky rice.
A great way to fill up or as an energy snack when you are out seeing the sights in Thailand.
This is an additional post featuring food in Thailand