Travel Journal Overview: The capital of most cities I'd learned was never the best place to experience a country. New Delhi may well be one of the exceptions. Pressed for time, I was about to become one of those tourists.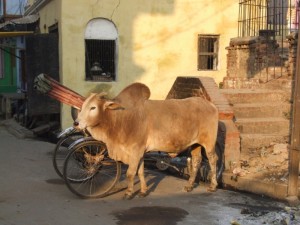 I was surely back in tourist land. Bacon, eggs, oats, coke and a papaya juice for breakfast. It sure beat Pakistan's liver feast. I ventured outside for my first look at daytime Delhi. It seemed like Main Bazaar road was tourist central road. It was a street built for two cars to squeeze by, though given the amount of human and cow traffic this would have been a full day's ordeal.
Cycle Rickshaws were the most common sight, followed by human traffic, motor bikes, cows and the then cars. Of all this human traffic was had the biggest visual impact. Yes there were the hawkers, stall owners and shop keepers. But mixed into this were a majority of tourists, mainly the hippie types. Some staring with big slow smiles at various items on sale, others walking with purpose as if they owned Delhi's streets.
There was nothing special on sale along this road. Flip-Flops and all manner of sandal hung it seemed from every fourth or fifth stall. The others were made up of t shirt stalls, food places the odd hotel and plenty of sign boards. Naturally enough every other hawker would call out to you as you curiously looked onto this single road of eclectic properties.
Calls of "Friend, come look", "American?" and "You need guide?" Rang out constantly. One hawker after trying to communicate with me for 1 minute of silent walking by me, tried again as I turned back to wander down a side street. He got another minute of being ignored. I think I got a couple of "Nice Beard!" remarks, nearly enough to make one turn to look, but just not good enough.
At the end of the road there was a makeshift barrier. It was as if the Main Bazaar road was sectioned off just for tourists and touts. On the other side was a t junction of traffic chaos that one had to cross in order to get into the New Delhi Railway station. I was in search of the tourist information office. My time was short in India and I wanted to get all the information I could on how to get to places as quickly as possible.
2nd floor of New Delhi railway was where the tourist information office was. Instead I found a tourist cattle market of a room. Hippies, Gap year students, families and just about every conceivable tourist type were all located in large open plan room. It was the New Delhi Railway booking office. I shuddered.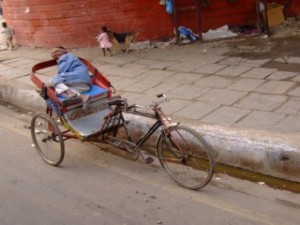 The one good thing about the fake LP was that it seemed fairly accurate. I jumped in a prepaid auto rickshaw after battling through freelancers at the stall telling me it was closed and headed to Connaught Place. Tourist free at last I headed out to explore Delhi. Connaught Place was basically a new type of city design. It was conceived along the notion that building ever increasing circles of circular shopping blocks and roads would be a good idea. One could see how it could be, bar the fact that the inner circle that surrounded a closed off park was large enough itself.
I passed by countless designer stores, fast food restaurants and even more designer stores. This was a road for the rich and the to be scene people. Off come side streets I went into some smaller stores looking for rechargeable batteries to replace the ones probably being use at some hashish smoking party in Lahore. Surprisingly they were all quite expensive. Compared to European prices they were only about 10% less. And, all looked fake.
Along the streets various street hawkers sold everything from clothes to jewelery to books. Indeed books seemed to be the most popular item for sale. I passed by a real book store to get an idea of the prices of books in India. A little Cheaper than Europe, but not by much. Along the roadsides they were only a few Euro.
I enjoyed looking through a mish mash of popular titles, Hindu religious types, financial success and cheap romance titles. I needed a book and after the great "Travels in Afghanistan" I really wanted a book about travel. A few caught my eye. Then a badly printed book with a gory blue and faded red covered book caught my eye. It was about an Australian you lived in India call "Shantaram". It turned out to be one of the best books I have read while traveling.
The tourist office was friendly, and the man I spoke with understood my time constraints. We looked at various options and the times involved. I really only wanted to make sure I saw the Taj Mahal, and even then it was more to get it out of the way than an actual interest. As one traveler told me "Going to India without seeing it is not good!"
A day trip to Agra where the Taj was seemed like the best answer. I also noticed another full day tour of Delhi. I reasoned that I could see a lot, and get out fast if I took the two days tours. In fact I could even afford another day in Delhi catching up on some other things I needed to get done. This would still mean I could then head straight up to Varanasi and spend an extra day or so there before arriving in Nepal on time. I signed up to become a tourist on tour.
Some related links on this website that  you might like: (including a lot more photographs from India)
Stories: The Dealing with the Delhi Post Office

Stories: Accomplishing Something on the Ganges

Video: On the Ganges Ceremony