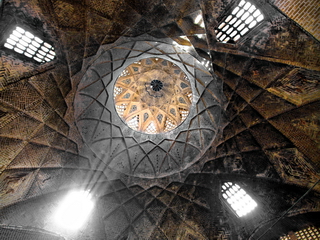 Interior of an elaborate domed market roof in Iran
Iran has some of the most stunning architecture I've come across in my travels. From ancient historic buildings to historic buildings still in use today.
Facts about architecture in Iran:
Iranian / Persian architecture dates back to 5000 BC
Instances of Iranian architecture can be found from Turkey to China and all the way to Zanzibar
Iranian architectural is famous for its symbolic geometry and using pure forms such as circles
The Sassanid Empire is first noted for creating large scale domes within the Persian empire in 224 AD to 651 AD
Today many architects base their designs on Iranian architecture from the past. Examples include modern day environmentally friendly cooling systems built on the design of Windcatchers
The story behind this photograph
I took this photograph in Yazd, Eastern Iran. It was one of the places I really enjoyed visiting in Iran. An ancient city built beside a desert.
Much of Yazd is made up of ancient buildings that are still in full use today. Including this market I visited. It was early morning on a Saturday and very quiet. I was trying to find something interesting to photograph when I noticed the lovely light coming in. It was only when I reached a junction that I saw this magnificent dome.
Holding my camera up to take the photograph wasn't going to work. The interior of the dome was too big to fit in the frame of my lens. Down on my knee and still too big. Then I lay flat down on my back in the middle of this junction to take the photo. The result was of course lots of stares from locals.
But, as I've mentioned before, Iranians are very passionate about art, including photography. So instead of "mad man" looks, I got nods of approval. With my lens still incapable of getting all of the dome in I was left with only two choices. Return to the hotel or …
The last resort of getting far away to take the photograph
My only solution was to place the camera flat down on the ground with the view finder protected from the concrete by my lens strap.
Positioning the camera without knowing where it was pointing exactly was insanely difficult. I counted over 50 shots. Never mind the damage to my neck and knees.
I then of course began looking at other angles and started shooting until the light moved on.
It took me a long time to process these photographs. There are many slight versions. I'll publish another later on of just a single beam of light shining in. In my opinion it's even better than this photograph.
For now this is a image that I think really highlights the dome to maximum effect.
Discover more great travel photographs
This is an additional photograph feature from my world travel photography gallery, detailing the story behind the picture 
---
Planning on booking a hotel room in Iran?
Here are the best online rates guaranteed!
I recommend you try my own hotel search for Iran.
---
Please take a moment to leave a comment and share this photograph using your favorite social network