A stilt house girl who's not so happy
Davao in the far south of The Philippines is one of the nicer cities in the country. The traffic is not so heavy, the taxis don't cheat and it's not so polluted.
It doesn't mean there aren't problems there. Stilt houses run along the shore fronts here. Timber shacks that stand above the tide when it comes in.
Some people are friendly some are not.
The story behind this photograph
Tough locals eyed me as I walked out onto the beach. It was a place tourists don't go. I nodded at them and kept going. There were children around. None looking too happy.
I saw this girl staring at me. She never smiled. I can guess why given the surroundings. But still, a child who didn't want to smile at a stranger is unusual in the Philippines.
This was no tourist beach. This was reality.
Find more great travel photography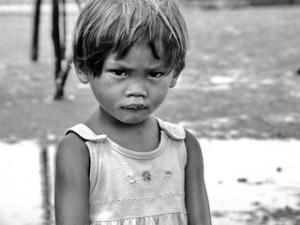 This is an additional photograph feature from my world travel photography gallery, documenting the story behind the picture 
---
Planning on booking a hotel room in The Philippines?
Here are the best online rates guaranteed!
I recommend you try my own hotel search for The Philippines.
---
Please take a moment to share this photograph using your favorite social network