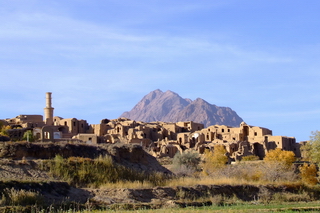 An abandoned mud city in Iran
There's something intriguing about ghost cities, abandoned cities or simply deserted buildings. At least for me. Long before popular tours took over I visited Kharanaq in eastern iran in a beat up old car. Nothing like a bit of urban exploration in a mud city.
The story behind this photograph
Ghost towns in Iran are quite numerous. The explanation for all these abandoned cities is quite easy. Drought. When the water stops so do the crops and the people move on.
In the case of Kharanaq it's no different. Once a prosperous farming citadel for over 4,000 years the water supplies ceased and so the people literally got up and left.
Now all that remains are crumbling old mud walls and collapsing rooftops.
Tours to Kharanaq
Today Kharanaq has become a popular tourist attraction with many tour agents offering group or private tours out to the town.
For those wanting to make it out independently then at taxi will cost about USD$15 for a round trip out there (160km from Yazd). Bring food with you. There's a nice camel burger place in Yazd that does take away. Or, simply get your guesthouse to pack you something.
At the worst, the private taxi will take you to a local place to eat.
There are still people living in Kharanaq. Doesn't every ghost city need some occupant? Water trickles in for a few remaining souls. For everyone else Karanaq makes for a idyllic and interesting trip.
Discover more great travel photographs
This is an additional photograph feature from my world travel photography gallery, documenting the story behind the picture 
---
Planning on booking a hotel room in Iran?
Here are the best online rates guaranteed!
I recommend you try my own hotel search for Iran.
---
Please take a moment to share this photograph using your favorite social network