Nine Emperor Gods Temple in Penang, Malaysia
Throughout my travels in Malaysia I missed out on the Nine Emperor Gods temple on several occasions. Even though I attended the famous Nine Emperor Gods Festival it wasn't at the actual temple. On one trip to Penang in mainland Malaysia I decided there was no excuse not to go the extra mile and visit the temple itself. The name was enough to spark a curiosity that last a few years.
This particular temple, dedicated to the nine emperor gods in Taoist belief, is not very old. Construction began in 1971 and completed in 2000. The gods themselves come from a Taoist cult belief known as Kew Ong Yah. The Gods are believed to live in the stars and are the sons of Emperor Zhou Yu Dou Fu Yuan Jun and the Queen of the heavens Dou Mu Yuan Jun.
This particular temple is popular due to the huge archway that marks the entrance to the main temple itself. There is no charge for entering this temple.
The Nine Emperor Gods Festival
Despite a dwindling popularity the cult status of the emperor gods means they are still celebrated every year. It is believed the gods descend from the heavens during the festival and sometimes inhabit individuals or believers.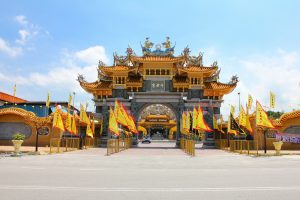 These people then take part in huge celebration and can often be seen acting strangely. It's during this festival that the media latches on to some follower who practice placing swords or metal rod through their cheeks to balance poles
Every year during the holidays I publish 12 days of photographs from around the world. It offers a short break from the hustle, bustle and stress this time of the year can often bring. A collection of photographs from my journey that will hopefully distract, inspire and show you some unique and interesting places. I hope you enjoy!