Night time at the Helix Bridge and Marina Bay Sands Hotel
There are several attractions at the promenade in Singapore. For me the Helix bridge was one of them along with the exterior of the impressive Marina Bay Sands Hotel.
The Helix bridge was opened in 2010. Pairs of colored letters, namely c and g, along with a and t are lit up to show cytosine, guanine, adenine and thymine which are bases of human DNA. The design is also left handed DNA as opposed to right handed DNA which won it an award.
The bridge was constructed using 650 tonnes of Duplex Stainless Steel and 1000 tonnes of carbon steel. It's an impressive structure with during the day or as shown here at night.
The Marina Bay Sands Hotel
Also opened in 2010 as the most expensive casino. However this included the rather high land price associated with Singapore. The hotel consists of 2,561 rooms, an exhibition centre, shopping mall, museum, two theaters, restaurants, floating pavilions, art exhibition and its famous infinity swimming pool.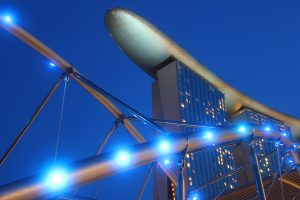 There is no entrance charge for either to visit. At night when the lights are on both the Helix Bridge and Marina Bay Sands Hotel it becomes especially impressive.
Every year during the holidays I publish 12 days of photographs from around the world. It offers a short break from the hustle, bustle and stress this time of the year can often bring. A collection of photographs from my journey that will hopefully distract, inspire and show you some unique and interesting places. I hope you enjoy!