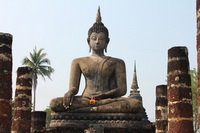 Wat Mahathat is one of Sukhothai's best temples
Completed during the 13th century Wat Mahathat served as the royal palace and administrative capital for the Sukhothai Kingdom. It still remains the largest of all the ruins in Sukhothai's Historical Park.
When visiting Wat Mahathat approaching from the front is visually impressive as the still moat waters in front of it reflect the ruins behind. This moat was said to represent the outer wall of the universe.
There's a lot to explore around Wat Mahathat which comprises of Mai Chedi, a large red brick stupa. The assembly hall which are now no more than stone pillars. An ordination hall and four large chedi's in each of the complex's corners.
Around Wat Mahathat
There are also nearly 200 smaller chedi's scattered throughout the site. Two huge sitting Buddha's from the halls. The two huge standing Buddhas near the main Chedi which measure over 12 meters in height are known are known as Attharot.
Today Thais still visit the Buddha images to pray. Yes, these are active ruins and still held in high regard. Insense is still burned here and small offerings are made.
There is however a shortage of monks at Sukhothai. They seem to occupy monasteries and temples on the outskirts of the park rather than pray within any of the ruins. It's not that you won't see any, but rather they are few and far between.
The ruins also double as popular gathering places with many a family coming for an afternoon and simply sitting around a chedi or behind a statue. There's no disturbance here as everyone is quiet and respectful.
 The assembly hall of yesteryear
In case you were wondering what Wat Mahathat would have looked like back in the 13th century then here's a look.
As you can tell the Assembly hall was fully roofed. The Chedi was covered in plaster. White washed most likely.
Chedi's at Wat Mahathat
The chedi's around Wat Mahathat are lotus bud-shaped while the main chedi is Khmer prang style. The main chedi has 168 stucco works running around it's base showing people Buddhist disciples walking and holding hands together
The tall standing buddha
Beside the main chedi is a tall 20 meter standing buddha. There are two at the site on either side.
The standing buddhas are on raised platforms making them even taller. It's well worth looking around at the small enclaves near the standing Buddhas for hidden Buddha statues that are very well preserved.
Wat Mahathat in Sukhothai is Thailand's answer to Angkor Wat
It's a boldish headline but if you've visited other Thai ruins and Cambodian ruins you'll see the similarities in terms of scale of Sukhothai's historic park. Yes, Angkor Wat itself is larger and better preserved but that doesn't detract from Wat Mahathat's splendor and open space to explore.
If you are looking for the best ruins to visit in Thailand you'll find them at Sukhothai's historic park and Wat Mahathat is the definitive highlight.
You can read more on my guide to Sukhothai Historical Park.
---
Planning on booking a hotel room in Sukhothai?
Here are the best online rates guaranteed!
I recommend you try my own hotel search for Sukhothai
---