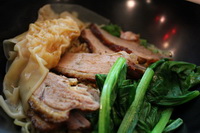 Thailand has great roast duck
I've always tried to like duck, but it's usually either too greasy or comes in a fairly sparse dish. Because of this I didn't think much of it when I kept seeing it on Thai menus. Then one random day I decided to give it a go.
It was a good decision.
For my first roasted duck meal I was served up a tender juicy slices of roast duck on a bed of steamed dumplings served with spinach and noodles.
Not only did the meal look good but it tasted great too.
What does roasted duck taste like in Thailand?
The duck itself was tender, juicy with just enough duck flavor without being too overpowering. If you've never tasted duck before it's a dark fowl meat that can be quite gamey in taste. Thai roasted duck is quite subtle in taste. Chicken it's not. It's more lamb like than anything else.
The best thing with Thai roasted duck is that it wasn't greasy at all
Yes as with all duck meats it had streaks of sinew. But due to the slow cooking it too was tender. I'm not a fan of duck skin and this came with thin slivers of skin. Again, nothing too overpowering so I had no problems with it.
It was served on a bed of prawn dumplings and noodles. The dumplings were delicious and full of flavour. The noodles were a let down as they were not good quality. But this was all offset by a generous helping of spinach and other leafy vegetables.
Other types of roasted duck in Thailand
Duck is surprisingly popular in Thailand. Especially in the Chinese quarters of any town or city. I've had Peking Duck in Bejing which was delicious but Thai roasted duck is nothing like it.
If you've read my post on Thai fried pork then this is also another version of a duck dish commonly served in Thailand. I've also had shredded (pulled) duck which I'll cover later.
So yes, I've yet to have a bad meal in Thailand that consists of duck. If you've never tried duck before or never particularly like it then do try it out when you are in Thailand. The Thai's seem to get duck right!
This is an additional article featuring Thai food
---
Planning on booking a hotel room in Thailand?
Here are the best online rates guaranteed!
I recommend you try my own hotel search for Thailand.
---