The Fairy Chimneys of Turkey
Cappadocia is in Goreme Turkey. An arid region in the south that's filled with dry mountains. The area's inhabitants date back to the 6th Century BCE. It was once a part of the Persian Empire.
Cappadocia also appears in the Bible, Book of Acts 2:19. Alexander the Great is said to have tried to rule the area but King Ariarathes took the area instead. It wasn't until 1071 that Turkish clans took over the area and converted people to Islam.
Between these eras the tall volcanic rock became shelters for many of the native Cappadocians. The rock housing offered shelter, protection and ease of access in the otherwise barren area.
Visiting Cappadocia today
Tourism is booming in Cappadocia with the area of Goreme where you can find these rock formations being the most popular.
Many hotels offer "Rock" rooms to sleep in. While many do have these rooms, they usually don't involve scaling up mountains. Most rock rooms are either rebuilt or in exclusive hotels.
It's not as disheartening as it may seem. The caves can still be visited and hot air ballons at sunrise are stunning over these rock formations which have become known as "Fairy Chimneys".
Sleeping in a Fair Chimney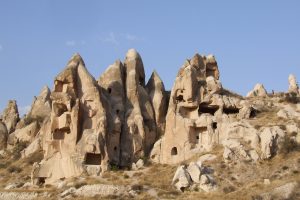 It pays to do a little research first. Use the link below and inspect the rock room where they say you can sleep. If it looks like a hotel room, chances are it really is a modern building. If it looks like a cave … expect small rooms, but with all the atmosphere a 300 BEC room should have. Good for at least one night!
This is one of a selection of photographs from around the world brought to you over the holiday period to enjoy. You check out more from my gallery.
You can support this site by either purchasing a guidebook below or by booking a hotel room through a parter hotel (same great low prices for you, a little commission for me).
---
Get my Guidebook to Nepal & discover more than anyone else!
The most up-to-date, popular and dedicated guidebook to Nepal in the world. Take a look below and you'll find out why!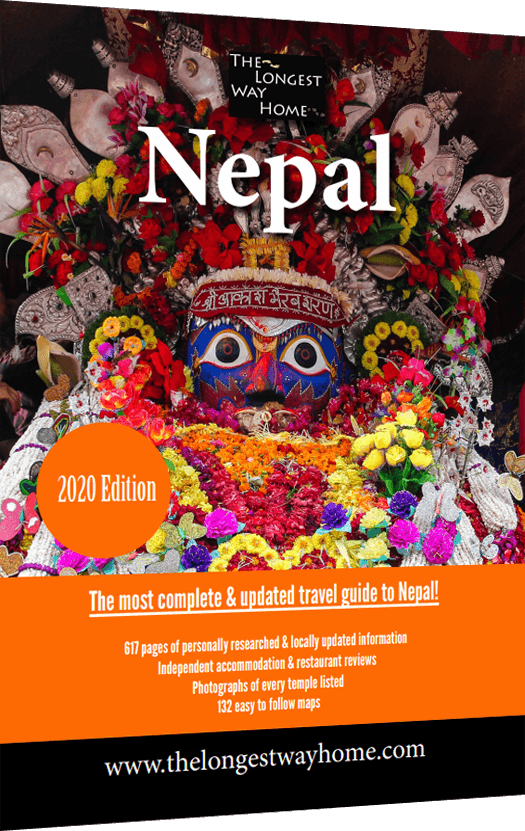 Find out more here!
---
Please take a moment to share this photograph using your favorite social network