Published in:
Nepal
| July 16th, 2014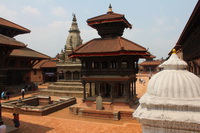 Can you have a great time in Nepal in under a week?
I've always suggested taking a long trip to Nepal to get the most from this great country. And, I always get emails from people saying "I've only got a week! Can I still do it?!"
The answer is of course yes!
With new budget airline routes from Bangkok, Kuala Lumpur and New Delhi opening up there has been an unprecedented rise in short trips to Nepal.
I've had great people from Malaysia wanting to make the most of these new offers as well as tourists visiting Thailand and India who never thought it possible to make it to Nepal so easily.
I've jumped on the bandwagon too for a short trip to catch up with some friends and business. It's a much shorter trip than usual so I thought it would be a great opportunity to share some tips on what you can hope to see and do between 5-7 days in Nepal.