Sisig from the Philippines
Sisig was one of the first Filipino dishes I was … erm … subjected too. Mainly because some locals thought that describing it as Pig's face would put me off. Unfortunately for them I've eaten cow face before so it wasn't a big thing. Unfortunately for me, Sisig wasn't quite as good. That said you may like it.
What is sisig?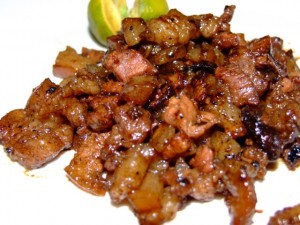 It is indeed made from the face of a pig. Parts of the whole head actually. Snout, ears, skin that sort of thing. It's origins also state pig brain but that seems to have slipped into history. It's likely to have some liver in there too. Yet I haven't come across that too often either. But there is chili, onion, soy sauce and  a dash calamansi with vinegar.
Where to find sisig?
In cheaper eateries I have to say I found the chunks of white fat and skin far more plentiful than any meaty bits. But head to a sit down cantina or a home stay and you'll get a better plate. In restaurants it's often served on a hot plate under the moniker "sizzling sisig". Generally it goes great with a beer in an outdoor market as a nibble type food.  Costing around 15-30 pesos a dish and a lot more in restaurants.
This is an additional post and one of a series highlighting Filipino food from the Philippines