Travel Journal Overview: I was leaving New Delhi for Varanasi via train. In truth my rush through India was better than I had expected. I still wasn't over awed by the place. But I could see the charm of the place. What's more my planned Christmas meet up in Nepal had been canceled. All of a sudden I had time again.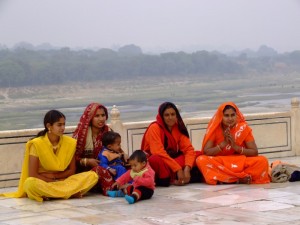 My bags were packed and stored away in the hotel. It was to be a day of Internet and planning. Varanasi, according to the LP, had a bad train station and was to be avoided if possible. I picked up my phone and for the first time took advantage of a hotel offering a free pick-up.
My other big problem was what to do for Christmas. I was starting to dislike he idea of heading to Kathmandu and spending Christmas there alone. Chitwan the Nepalese national park did not look that inviting either. So the idea of doing a trek was getting closer to the forefront.
I packed up two pizzas for the overnight journey, and just as I was leaving bumped into a nice English girl who just changed hotels. Typical as one is just leaving.
New Delhi railway station was as crazy as ever, but I ignored all and fought forward to the correct lane. At least everything was marked clearly, including my name on a list outside the carriage. Finally a train with sense!
The carriage was packed with tourists. It was a AC 2nd class, meaning 3 tiers of sleeper seats opposing each other and an open corridor. Luckily there seemed to be a nice Italian couple, Roberto and Gillian in the same compartment as me. I chained up my bag and sat down with them. They were on the way to Variance's too, and it was good to see they liked photography too.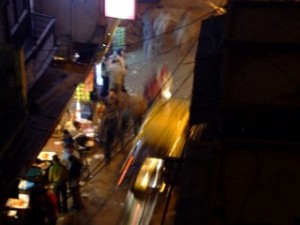 After about an hour the ticket inspector came through. He examined my ticket and then promptly shook his head. Bollox, what the hell now? Were all these Indian trains a screw up!
I pointed to my name on his list. He waggled his head, "You must be to be going to 1st class!"
I looked around a little confused. "But my ticket is for here?"
He smiled and nodded, "Yes but now you can be going 1st."
Apparently I had just won the train lottery. When ever they had vacant 1st class seats they would take a lottery and boost people up, thereby making more room for 2nd and 3rd class seats which they could sell more tickets of. I looked at my two new train friends and said that if the 1st class compartment was not so good I would be back. But in truth as a little baggage man appeared to carry my bags for me I was reveling in the idea.
After a little knocking, the door open to my new accommodation. A solitary young Indian girl stood in the two bed compartment with a worried look in he eye. No I would not be going back to 2nd class tonight.
Her name was Garima, and she barely said a word. In fact the only thing she did say was that she wanted the top bunk. I searched for conversation openers, and they all failed. She was not budging.
Finally an idea crossed my mind and I opened up my bag. I had the ultimate female conversation tool. I reached in and pulled out my freshly read 'Mayada, Daughter of Iraq: One Woman's Survival Under Saddam Hussein', a good book about a woman imprisoned during the days of Saddam. Garima immediately opened up to conversation.
For once and actually the only time I was talking to an Indian who was not trying to get at my money one way or another. Garima was a lawyer from Variance's but studying a masters in Delhi. She was what most would pass by as a modernist Indian lady. She was dressed in a feminine western suit, but still had an orange sari at hand. She was well educated yet quite reserved. Intelligent enough to have a conversation on just about any subject, and smart enough to ask questions behind a closed door.
The little baggage handler was apparently assigned to take care of all the needs on the first class passengers. My need was a sprite as Garima was making me horse with all her questions. She had discovered my journey. And found it fascinating to meet someone wanting to see the world. What's more to her, I had been to Pakistan. Above anything else she had questions about Pakistan, the people, the places and ultimately was it better than India. This was after all quite a taboo subject in India.
Garima even managed to sit through 1000 + unedited photographs I had taken there. More over, she actually enjoyed them. Like we all know, there is usually only so much one can take of travel photographs belonging to someone else. Unless of course you have an interest in photography, or in going to one of those places. And even then there was a limit.
Garima, it seemed, was the exception to the rule. She took hold of the camera on each new photograph and inspected everything about the photograph. The people, the landscape, the food cooking in the stall. It was all questioned. Later we fell into a deeper conversation about the differences between the two nations, and her views on Islam and Hinduism. It was never too heavy, but always with reason.
We talked until quite late. She had her information. And still held onto her belief's. The light stayed on for the whole night, not so good when you are sleeping on the top bunk right next to it. Garima had in fact opened up a little side of India I thought I would not get to see. Things and my outlook on India were about to change …
Some related links on this website that  you might like: (including a lot more photographs from India)
Stories: The Dealing with the Delhi Post Office

Stories: Accomplishing Something on the Ganges

Video: On the Ganges Ceremony