Travel Journal Overview: Postal services the world over get a bad rap. India's postal service is no different. Yet, the parcel still managed to get delivered. There's a full Travelogue story on this here
It reads better than the below with no misspellings.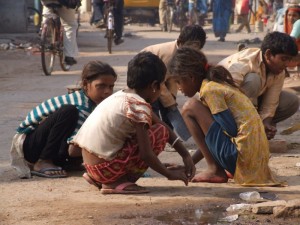 I took no chances and was at the New Delhi Railway station as soon as it opened. Not a bad thing either as quite soon afterwords a mass of tourists descended upon it. There didn't seem to be any fixed queues, and the people sitting around didn't seem to care much either. After a bit of form filling I approached a smiling lady at counter number 1.
It all seemed so much more efficient than the Golden Temple idiot. Maybe they purposely neutralized all forms of Indian bureaucracy within this one office. Even after issuing me a ticket the lady took it back and noted she had made a mistake. There were no trains leaving for Varanasi tomorrow at 6.30am. The massive time table on the wall said yes, but the computer said no. She typed away and came back with the answer. There was a train at 6.30 but it was 6.30pm. I did not care, it was fine to take an overnight, and even if it did mean an extra day in Delhi I was still ahead of schedule now that I did not have to be in Nepal on any fixed date.
I took my ticket and headed back to the hotel. I had prepared a package to be sent off for storage. Because Pakistan did not except CD's and I had heard no word of my Iranian photographs arriving safely I had a build up of photographs. Not to mention the usual bits of touristy items one picks up along the way.
I headed first to the DHL office in Delhi, a whopping 35 Euro to send one DVD of Photographs. I had wanted to send two, but the price meant only one could go.
Next stop was the Post Office hidden away on the second floor of a building opposite the Relax hotel in Paharganj.
There was only a short queue at one of the three little hatches. I waited patiently and listened as a male postal worker flirted openly with a young blond tourist getting stamps for her post cards. Aside from the flirting, it did not take too long. Up next a French Hippie girl with a parcel.
The man obviously did not like dark hair. He looked at he parcel in distaste, "Madam, you cannot be sending a package without a container."
The girl frowned. "But it is not OK like this?"
"Unacceptable."
"So … what should I do?"
"Madam, you must be getting a container for your packages before you can be sending it."
The girl went into hippie mode. "And how much is this box?"
The man behind the counter was write patient it seemed. "Well it could be costing you 90 Rupees, but it depen…."
"It is too much!" Retorted the French girl, "I well not be paying this kind of prices. I shall find a box myself."
With this she turned and left. I approached the man, box in hand. "I hope this box is strong enough?" I asked giving it a hard knock.
The man eyed me, and I had a feeling he knew I had listened in on the last conversation. "Yes Sir, it is a very fine box. But you need to have it wrapped in materials before sending."
An argument here would not be could. I nodded and then though ahead a little, predicting another possible outcome.
I opened the lid. "Here you will need to inspect the contents before they are sealed up."
The man stared at me for a second before the corner of his mouth went up in a gentle smile. He wobbled his head as gave the boxes contents a poke around.
I headed back down to the street in search of a man to stitch up my parcel in material. The French girl was there, looking angry. Apparently a man was trying to direct her to a parcel wrapped who could also provide a box. I interjected and said I wanted to have mine just wrapped. We walked two stores down to a clean shaven little old man
sitting behind a large black singer sewing machine.
The French girl asked about the box.
The old man produced a nice looking generic box that fix her plastic bags contents nicely. The cost including wrapping was 50 Rps. The girl freaked out again saying it was outrageous.
"How much for the wrapping?" I asked over her shoulder.
The sewing man looked up at me, "20"
"Done, let's do it now."
HE took my parcel as the French girl stormed off mumbling about the cost of a box.
I looked on and was impressed with the care and precision the old man took in measuring out a piece of white cloth, and the care he took in sewing up my parcel. It was worth the cost of just watching him alone. I had him then repair a small hole in my shirt. He refused to give me a price, just what you think he had said. I handed him over 100 Rupees for everything.
I returning to the same little hatch at the post office just as an old English lady was leaving with a cluster of forms and a confused look on her face. The man was gone and in his place was a rather large lady.
"You are intending to send this?" She said staring at my now neatly wrapped package.
I nodded.
"You will be needing to have its contents opened for inspection."
They were all sadistical pricks at this office I figured. "Already done," I said with a forced smile as I leaned past here ample frame into the office. "There that man," I said pointing at the first man I dealt with. "He inspected it already, I just want to pay now."
She waggled her head. Paused. And then produced four forms for me to fill out. The must have a strange fetish to take enjoyment in all this. I filled the forms out and waited. 20 minutes later another man came to the hatch and signalled me through to the inner office.
Inside it was neat, apart from a large heap of parcels under one of the desks. I grew discouraged that all this was quite fruitless if that's where the parcel was going, and no further.
I had my forms inspected, and was then asked to rewrite the address on the parcel in a big black marker that was handed to me. From there the original man appeared and began typing in the address the parcel was destined for on his quite new looking computer. The only problem was that there was only room enough for the first address line, and the country of destination.
"No problems sire, do not be worrying."He reassured me.
"You are sending by air mail OK." Said the second man, as more of a statement than question.
I asked the cost and time frame of sea mail. And in fairness they did take another 10 minutes to rummage through several ledgers to find out.
"500 rupees." Frowned the first man after tapping things into a calculator.
"And how long to get there?" I enquired curiously.
They both stared at each other. The first man waggled his head, "3 months, maybe 5."
"But it will get there? Yes?" I frowned back.
He frowned a little, then smiled, then waggled.
"I will go with air mail then!" I waggled back.
They both waggled in satisfaction and 15 minutes ,minus 850 Rupees, later I was issued a receipt as I watched my parcel being tossed into the pile under the desk.
Outside the main office I saw that the French hippie girl was back at the hatch with a rather beaten up cloth sew parcel. I left just in time to hear the first man tell her that it needed to be opened up for inspection. Followed by French profanity.
Some related links on this website that  you might like: (including a lot more photographs from India)
Stories: The Dealing with the Delhi Post Office

Stories: Accomplishing Something on the Ganges

Video: On the Ganges Ceremony