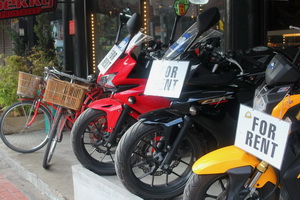 North Thailand beckons
I could only take Chiang Mai's boogaloo aspects for so long. It's good if you've been traveling for a while to watch some white folk chow down on some kebabs and burgers while chilling out around the locals bars. But there are plenty of places in the world offering this. So why stay any longer?
Choices, choices. Back to the south heralds a beckoning call to visit some of Thailand's mid north temple sites. I like this. I want to go. But to the north of Chiang Mai lies Thailand's northern frontier. The Burmese border. The highlands. The call of a cooler climate.
I'm not inspired though. My travelers instinct tells me I've seen similar things already so save the cash and head south to what you know you want. But there's another gnawing instinct. The unknown. It says:
"You'll never know until you go …"
I say shut up, I know the place is not for me. So I think how to make it better.
What's in Northern Thailand worth exploring
I struggled with that a little. Highlands and jungle do little for me these days.
A true case of been there, lived that.
I've little interest in Long-Neck villages nor bus loads of bohemian hippie wannabe's en-route to Pai. No, truth be told there were only two things that interested me in Northern Thailand. A border. And, some cooler air.
The prospect of taking a bus up a possible vomit inducing winding road to Pai did not appeal at all. Nor did a package tour to the north inspire me.
An idea niggles at me one afternoon as I pass by a french run cafe. Big motorbikes. From Kawasaki Ninja's to Roadsters glistened in the evening sun.
I wanted a bike. I wanted a very big bike. I wanted the big motorbike they call a HOG!
Renting a motorbike in Chiang Mai

A couple of things haunted my long-term traveled mind about renting a motorbike in Thailand to travel north for a few weeks.
They want a passport as a deposit
What happens if it breaks down 500 miles away?
What happens if someone steals it?
Do I have to carry my backpack on the motorbike?
How much will this jaunt cost?
Yea, the list comes from long-term travel paranoia. Think everything through ten times and work out who's going to screw you over.
I tackled it by visiting four rental places and my guest house's meek offering.
The price: The first thing to do was work out how long I wanted to rent a motorbike for. A few days? A week? A month? I settled on two and a half weeks. Daily rentals are more expensive than weekly rentals which are more expensive than monthly rentals.
The second thing was the size of bike. The bigger the bike the more money to rent. But the bigger the bike the safer I feel on the road and quite frankly I'm not into chicken chasing mopeds.
We started off with a BMW GS 650 at the wonderful price of 2000 baht.
I was happy. Great price. Then the Thai man smiled back equally enthralled that I wanted to rent this beast for a month. Sadly after we'd moved onto breakdown and passport issues he let slip he meant 2000 baht per day … So yea, it was nearly cheaper to buy it than rent it.
We battled on with a Roadster, an Enfield, another BMW and a Kawasaki 650cc. I wanted a BIG bike no matter what. A fuel injected, disc brake, manual gear monster. Or a cruiser. A big black cruiser.
I pictured myself cruising through Pai in the early evening and revving my Enfield's gunshot shouting engine up just as some dope smoking hippie was nodding off on the side of the road.
BANG BANG BANG! BRRRRRRAAAOWWWW!
"Take that you barefoot wannabe hippie!"
And then I'd be gone. No idea where. But I'd be on the road north of Pai.
The passport: Part of the battle in all this was the surrendering of one's passport when renting a bike in Thailand. Now to me I can sell a passport in Nepal or West Africa for USD $10,000 with ease. More so for a Russian old style passport. Newer ones are less valuable but still. Likewise I really don't like traveling without my passport. Especially with Thailand's recent woes. So no. No one is getting my passport as a deposit.
So we settled on a larger deposit, a passport copy, a driving license copy and higher rental price that was refused by me and subsidised by an even larger deposit.
Insurance: I have it. He swore the bike was insured. I asked for a copy. He didn't have one. I moved on. Next, repeat. Next, repeat. See the trend. Ask what happens if it's stolen? Everyone shrugs and smiles. Then on the cusp of not renting a man finally unleashed a certificate. In Thai. I photographed what could equally have been a copy of his marriage license and the deal was done.
Breakdowns: Not going to happen conversations over with. I had three phone numbers for all the main towns I'd be near.
Backpack: Easy, it stays in the guest house otherwise panniers would cost extra to rent.
Bag packed it's off to Northern Thailand by motorbike
I shook hands with my guest house owner and said I'd call in a week just to let him know I was alive on my big bike. He asked to see it and I declined until my return.
Eating one last big breakfast of muesli, toast and eggs I waved goodbye to my local eatery. The waitress asked to see my bike before I left. I declined until my return.
At the rental place I grabbed the glossy helmet. The one thing I was getting was a new helmet. Then with my daypack on I hoisted my leg over my beast of a machine.
The suspension lowered a fraction. The seat felt good. It would hold me well over the coming weeks. My hands wrapped around the thick rubber handlebar. I mimicked the revving of a hearty engine in anticipation of a deafening roar.
I was ready. Me and my hog were going north.
I turned the ignition. It started instantly albeit with a purr and not a roar. I pulled my dark visor down so I was now the hidden rider on the only thing I could actually afford.
2200 baht for one month. Not bad. Shame about the aesthetics.
Coming Soon:
Losing faith and gaining some hope in the Long Neck villages
---
Planning on booking a hotel room in Chiang Mai?
Here are the best online rates guaranteed!
I recommend you try my own hotel search for Bangkok.
---