The bells of Wat Phra That Doi Suthep
Wat Phra That Doi Suthep is one of the most popular places to visit in North Thailand's capital of Chiang Mai. Located on top of a nearby hilltop the wat attracts thousands of tourists a year. That's said I've never felt it to be overcrowded. Then again I've gone in the early morning avoid the tours. The highlight is Wat Phra That Doi Suthep itself which is not in the photograph above. There's a lot more around the famous wat than just the building itself.
The to the left of the wat entrance is another shrine pictured above. In front of it is a row have heavy iron black bells. There are signs there not to ring them. They do look impressive and picturesque though. What's more, this area is usually very quite just in case you have the misfortune of arriving just as a tour group does.
The symbolism of bells in Buddhism
A bell has many roles in Buddhism which vary slightly due to the various sects and indeed types of Buddhism. Primarily a bell symbolizes Buddha's voice. Ringing a bell can mean asking for protection. Similarly the sound of a bell is said to be that of Dharma or the law that sustains the universe.
On a smaller scale the ringing of a bell is said to help with the meditative state of mind by calling on focus. The ringing of a bell is used by monks to both sound a call to prayer and to start a prayer. To many the bell is a symbol of compassion and wisdom.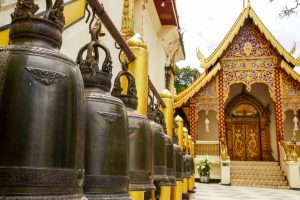 Lest we forget that not all monks were peaceful throughout history and the bell was often used as warning when invaders came.
Local transport in the form of jeeps called Songthews wait around the old walled city ready to bring you up there for a price. Truth be told it's actually cheaper to take a tour bus up there these days. But if you want more time up in the Wat then a one-way Songthews is the way to go.
Every year during the holidays I publish 12 days of photographs from around the world. It offers a short break from the hustle, bustle and stress this time of the year can often bring. A collection of photographs from my journey that will hopefully distract, inspire and show you some unique and interesting places. I hope you enjoy!