Trekking & Hiking Journal: a logbook is now available worldwide
I really should have published this a few years ago. It's something many people I meet on the trails in Nepal ask me about as they see me scribbling away in a notebook.
Where did you get that?
I made it myself. Now it is available in print for everyone who enjoys trekking.
What is a trekking journal?
It's a small pocket book sized notebook that contains quick fill logs for a days trek, plus an entire page for journals or the days diary. It seems like a fairly basic thing, and it is in many ways. But it did take several years to perfect.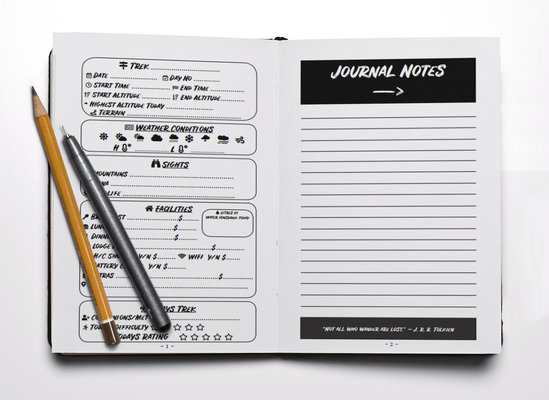 I tried taking a regular note book, but found it time consuming and the pages would get ripped as they were too big for my pocket and bag. Then I switched to a tablet. Big mistake, battery issues abound plus it ended up in terrible condition at the end of a trek. My phone was next on the list and that was fine for GPS and titles, but after that .. yep, battery issues and the annoyance of slowly typing into it – and repeating the same things over eg . Where I stayed, what I ate, what I saw, etc.
So, I finally settled on making my own trekking logbook with preset easy fill things like, weather, dates, distance covered, where I stayed, what I ate and the cost. I photocopied them. Which then led to a mess. But, I was on to something. I then bought some online hiking journals, but they were all missing something that "real" trekkers needed. They seemed cheap and made by robots. So, I made my own.
Why is a trekking journal is a good thing to have?
For me, it helps take down all the details of a days trekking so I can use it for my guidebooks. For others, it's a great way to record your trek so you can look back on it. Or remember it more accurately than just with photos.
It also helps with things like recording the cost of your trek, what you ate, your altitude, and piece together why you felt the way you did that day. Plus of course, notes on what you saw, did, spoke with, accomplished etc.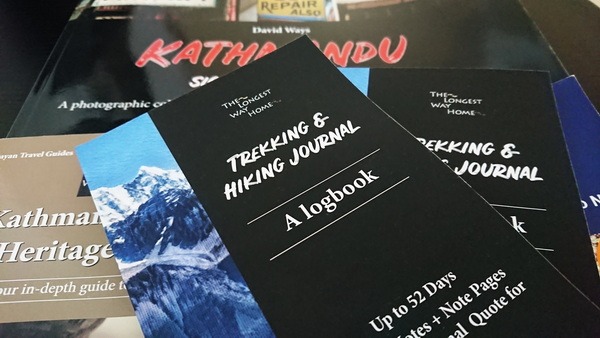 At the end of a trek when you get back home, the journal can then stand proudly on your bookshelf. It's amazing to have people pick it up and go through it when they visit. Moreover, it's great to read back over your notes – the memories and feelings come flooding back!
What makes this Trekking and Hiking Journal better than the others?
Well, I tried the others and did not like a single one. Most were too big or fell a part quickly.
This one is pocket book sized 4.25 x 6.875 in. Perfect for your pocket, or day pack. It's also only about 50 grams but can record over 52 days of trekking with 104 pages!
It's also prefilled with common trekking log entries – this speeds things up a lot.
There's also a travel quote for everyday on the journal page to help keep you inspired and motivated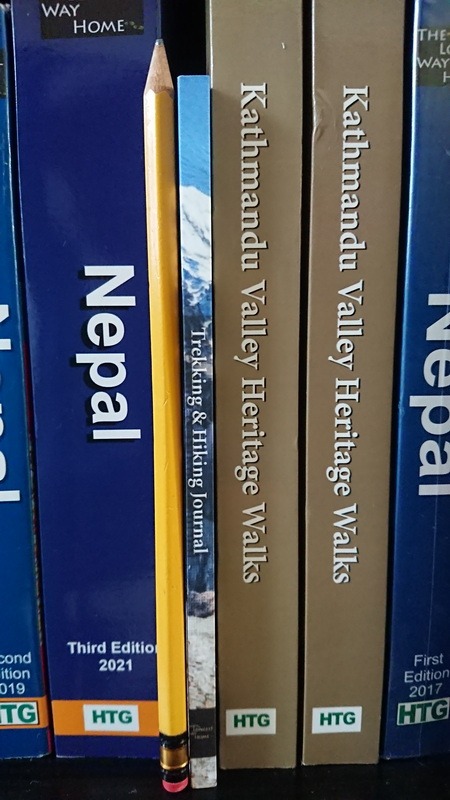 I created a page where you can quickly fill these common notes out. They are a series of quick references & prompts making it easy and fast to fill during the day or before bed. These include dates, days, altitude /start/finish/highest, terrain type, sights you spotted (mountains, fauna, wildlife), where you stayed, location + GPS, breakfast, lunch, dinner logs + prices, Wi-Fi, battery charging, extra costs, whom you met, difficulties and ratings! Then, on the opposite page, is a notes section for your own personal diary and note-taking.
Finally, I wanted something that would last. The cover of this book is special. It's matt and has a nice grip to it. Meaning, it's not going to slip out of your fingers or pocket when you are out in the mountains!
Where can I get one?
Easy, visit my own trekking and hiking journal page and order directly from there. Or you can equally visit most online book retailers and order there (it might be delayed in some countries as it's only just been published). I'd appreciate it if you purchase directly from the printing press as it will be cheaper for you, and me, as it leaves out the big mega-corporations taking a cut!  You can order the journal directly from the printing press here or from the previous link above.
It's only available in print!
It's not country specific either, so you can use it on and trail in the world. It also makes a great little gift for anyone you know who likes trekking or hiking!
---
For every two journals sold, a tree is planted