What's going to happen in Nepal during  2022?
I've been waiting all month for the "official" criteria on who can enter Nepal in 2022. There's good news on the that front which I'll go into a little later. The only bad news per se is that it took a long time to get the news, it came in its usual convoluted manner and Omicron has just, in the last few weeks hit Nepal – there's good news here too.
What's really going to happen in 2022?
Meanwhile, much like everywhere else in the world, tourism continues to be flatlined by the pandemic. It's quite clear at this stage, that in the short term, "travel & tourism" is nowhere near as important as we all once thought it was in terms of having "pull" with governments and economics. However, long-term the effect is plain to see.
Is there light at the end of the tunnel? Yes! Nepal has been open to fully vaccinated people since last October and people have been trekking, visiting, and doing the usual tourist activities for the past few months with few issues. The numbers, naturally, are tragically down. But, the good news is that there have been no major incidents, stranding, or complications. With that, let's have look at outlook for 2022, including what I have planned.
Omicron hits Nepal
Just as The USA goes over the curve and Europe is coming out of Omicron, Asia is getting it. Over the past two weeks Omicron has hit Nepal. The usual numbers have soared. But, everything is holding up so far. I expect infections to be quite high as most people in Nepal have only had two vaccinations. Booster shots have only been available to front liners so far. Serious infections remain low.
As I write this my publisher has just let me know he's got "COVID". A common cold is how they described it and the annoyance of self-isolation for 5 days. If you walk the streets of Kathmandu today, it's as if everything is normal.
On January 21st the Nepali government released the latest immigration regulations. Some people were expecting the worst, however little has changed. At the moment large groups of people are not allowed to meet indoors, and everyone (including tourists) must carry a vaccination cert (the one you got when you were vaccinated).
January 2021 Entry Requirements into Nepal
They are the same as last time for vaccinated tourists, only now you need to carry your vaccination card around with you. Antigen tests may also appear randomly at the airport from time to time (but nobody actually expects this to happen. The infographic below is handy quick look at what is required.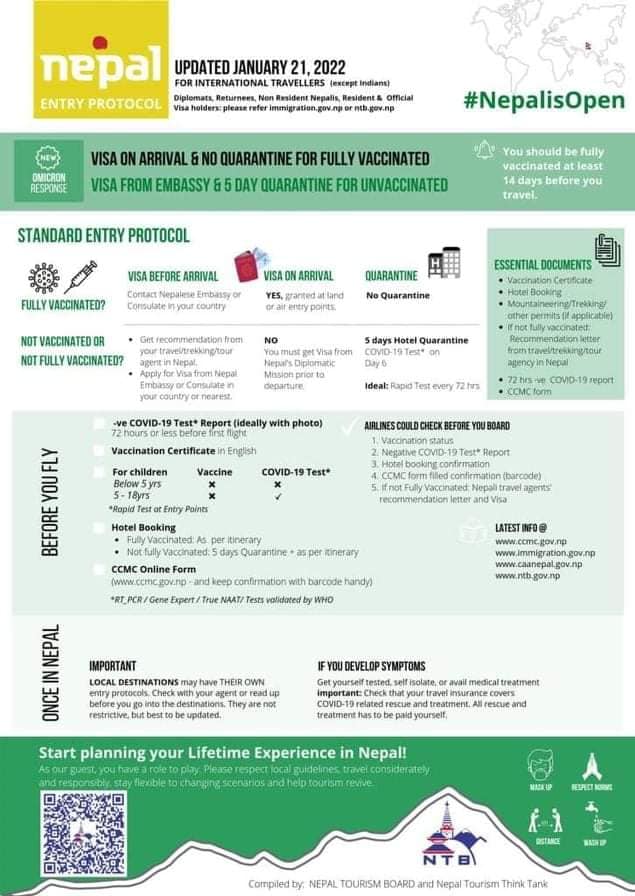 For Vaccinated Tourists:
For Visa on Arrival: You need to by fully vaccinated with a certificate, have a hotel booking (nobody is checking), have a trek permit if going trekking (nobody is checking), have a negative PCR test 72 hours before arrival (they are checking), have a print out of a filled out ccmc form (https://ccmc.gov.np/arms/person_add_en.php) and that's it. There's no quarantine. 
For Visa in Advance: The same as above, but you'll need to follow the embassy's specific advice and forms much like the above.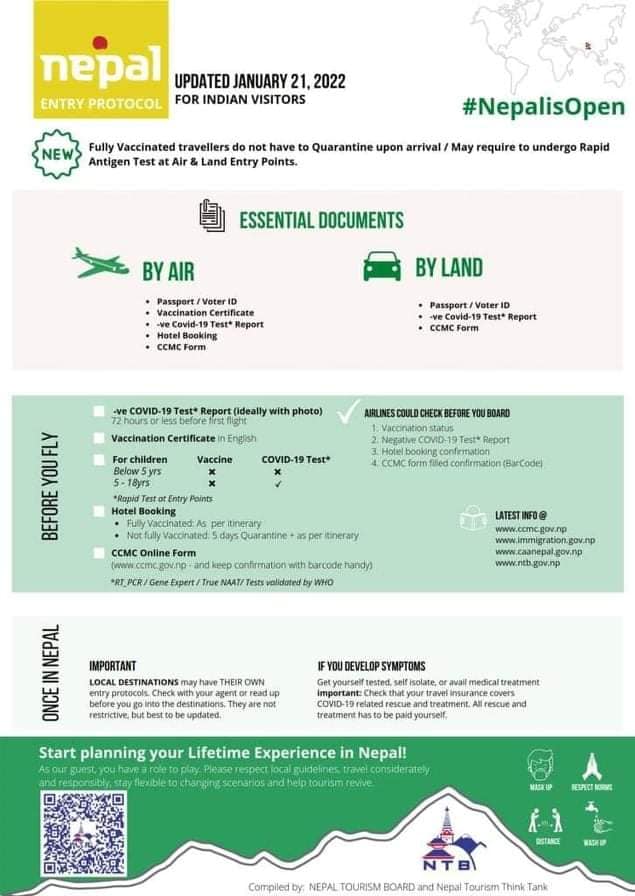 For Unvaccinated Tourists:
You'll need to contact your nearest Nepali embassy ( unofficial advice: and have a really good reason for visiting Nepal) before being granted a visa. You'll then need to quarantine in Nepal for 5 days and have a negative PCR test. The word is, if you are unvaccinated, don't visit.
Yes, things might change, so do visit my Nepal Visa information page for the latest or see my Twitter updates.
What can we expect when visiting Nepal in 2022?
Let's dump the bad news out first. Nepal is caught in the unfortunate predicament of having only two peak tourist seasons (do see when to visit Nepal). COVID Waves and variants seem to hit Nepal when the rest of the world is recovering. So just as you are relaxing outside of Nepal, you turn on the news and Nepal is getting COVID. Similarly, when Nepal's COVID waves end, the rest of the world is getting it. Thankfully, so far, the peak seasons of Nepal have been when COVID waves were low. So keep this in mind when thinking about visiting. Just because COVID is bad in your country right now, it might not be in Nepal.
The good news is that there are fewer tourists around Nepal and as such you'll experience Nepal at it's best. Yes, I don't follow the quantity over quality mantra Nepal's Tourism Board is obsessed with these days. In this case, less is more for the tourist. Big mountains with no trails filled with groups, locals having more time for you, and plenty of cultural places to visit without the crowds. If it wasn't for this whole COVID thing, it's like Nepal was back in the 90s.
New things appearing soon
Firstly, I'll have news in a week or so of something I've been working on. It's a small thing, but I hope it will help people with trekking all over the world as I use it and anyone who has seen me with it asks.
Yes, I'm being cryptic. I'm hoping to have it in my hands, for you, next week so let's see.
In reality, it will be about a month away.
Next up, I wrote a book …
I should have written something like a Romanic Travel Memoir that everyone would love that would propel me into retiring early as I watch it being turned into the next big Netflix series. Instead, I wrote a fiction book that fits squarely into the genre of – satire.
So yes, people will either love it, or hate it. And, the haters will shout and roar that it is not Politically Correct and I should be blacklisted from the entire planet. If Elon Musk, Jeff Bezos, or Richard Branson are any closer to Mars, that mightn't be a bad idea these days.
To come back to earth for a second. Why did I write a fiction book in the realm of humour? To be quite, honest, during this whole pandemic I needed something to cheer me up. So, I wrote something that did just that. It's not exactly what you might expect from me. It's fiction. No, it is not about me. Yes, more on it soon. No, I don't know when. Yes, it is finished. No, it's not finished because cover artists take time, and so do formatters etc.
Meanwhile, I'm still writing, and updating guidebooks.
There's also a brand new (ish) trek coming up here because I needed to stretch my legs after all that!
Get my Guidebooks to Nepal & discover more than anyone else!
Looking for more insider tips and information like this? Get the most up-to-date, popular and dedicated guidebook to Nepal in the world. Over 617 pages & 984+ photographs of every temple listed, daily guides on all the treks listed and so much more.
Take a look below and you'll find out why this beats all other guidebooks!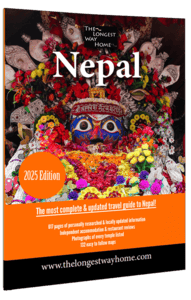 Get the digital Nepal guidebook here!
Get the paperback Nepal guidebook here!
Or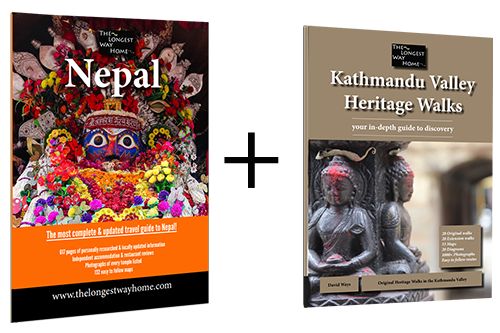 You can get 50% off my Digital Nepal guidebook by getting it with the Kathmandu Valley Heritage Walk book