---
Make no mistake about it, Bangkok is huge! For a tourist this can often mean it's daunting and confusing for first timers. It can also be quite expensive to travel around if you don't know the routes.. Read on here and find out how to make it easy!
How to split Bangkok up into sections
Bangkok by virtue of its size is already split into several districts with the winding Chao Phraya river making a good landmark.
For tourists the important districts are:
Khao San Road

- Backpacker area filled with cheap accommodation

Phahonyothin

- Chatuchak Weekend Market and Mochit Bus Terminal

Pratunam

 - shopping market of the very cheap clothing variety and electronics

Rattanakosin

 - Bangkok's old temple district, think of this as where the Grand Palace is.

Siam Square

- shopping

Silom

- Daytime business center, nightlife

Sukhumvit

 - Expat district, hotels, nightlife

Thonburi

 - A quiet part of Bangkok on the other side of Chao Phraya River, there's a small train station here

Yaowarat (Chinatown)

- yep you guessed it, Chinatown
Map of Bangkok's main tourist districts:
Map credit: Globe-trotter, based on work from OpenStreetMap.org contributors
Download a full sized version of this Central Bangkok Map
---
---
Getting around by public transport is the best way to travel in Bangkok city. Heavy congestion and hard to find parking makes driving very painful.
Thankfully Bangkok has an excellent public transportation system that you can use to travel around the cities sights.
BTS (Bangkok Mass Transit System): Also known as the Sky-Train is great for getting around shopping centers, central Bangkok and to the main river boat terminal. Here's a full guide on how to use the BTS skytrain in Bangkok.
MRT (Metropolitan Rapid Transit): Mainly underground this train links to larger suburban areas. However it also links to the BTS, airport and several popular tourist destinations. Here's a full guide on how to use the MRT in Bangkok.
Bus: Bangkok has an aging bus service that ply's the streets. Unless you are sure what number bus you need and where it stops it can be difficult to use.
Taxi: Brightly colored taxis in Bangkok are everywhere. They are metered and relatively cheap. The drivers don't always speak English so having your destination written in Thai can help.
Uber/Grab Taxi: Uber left Thailand in 2017 just leaving Grab and some local car hireouts. There's a debate whether Grab is cheaper than a taxi these days. The answer is it depends on where you are going. If you are in a rush, a regular taxi on the meter is good. If you are used to the Grab app and have some time it can be a few bhat cheaper.
Tuk Tuk: Three wheeled covered motorbikes that can take from two to four or more people short distances. In Bangkok they are known for boosting their prices so settle on a destination/price before getting in.
Motorbike Taxi: A regular motorbike with a man in a brightly colored vest will take you short distances. Prices are often shown in Thai/English where they gather.
River boat: Regular motorized river boats sail up and down the Chao Phraya River. Avoid the tourist boats for cheaper fares.
Walking: Even with all the above motorized transport you'll probably do more walking that you ever expected in Bangkok. Going from the BTS to the MRT could take 15 minutes alone.
Train: If the big city becomes too much for you then take advantage of Bangkok's two train stations Hua Lamphong and Thonburi for day trips away.
Long-distance bus stations: Bangkok has three long-distance bus stations. The Northern Bus Terminal (Mo Chit) - covering North/Central/Eastern Thailand. Eastern Bus Terminal (Ekkamai) - covering Eastern Thailand. Southern Bus Terminal (Sai Tai) - covering southern Thailand. Unfortunately these bus terminals are hard to get to with lots of luggage so save yourself some bother and take a taxi to them.
Important public transport locations in Bangkok
For most visitors to Bangkok there is no need to know about every BTS or MRT stop in the city. There are however a few locations which you will probably visit more than once to get around.
Since the COVID-19 pandemic, wearing a facemask is mandatory on most forms of public transport.
Here's a map of Bangkok's MRT & BTS Stations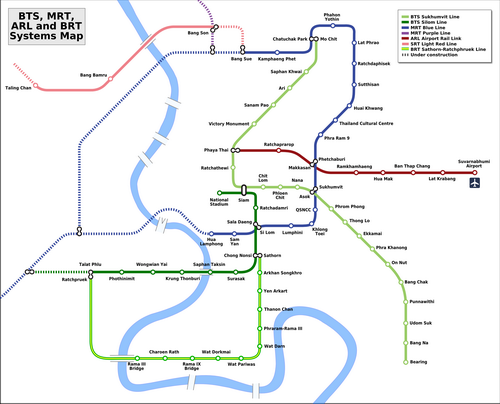 Download a full sized version of this Map of Bangkok's MRT and BTS stations
Here's a list of important Bangkok transport locations/junctions and tips on using them
Makkasan - Phetchabur(MRT): If you are arriving from the airport this is probably one of the first stops you might make. Bangkok's airport link railway is connected at the Makkasan Station to Phetchabur MRT station. Here's a full guide with all the details on arriving into Bangkok airport.
Phaya Thai - Phaya Thai (BTS): Probably the second most frequented stop if coming from Bangkok's airport. The airport rail link stops at Phaya Thai station which is directly linked to Phaya Thai BTS station. Again, here's a full guide with all the details on arriving into Bangkok airport.
Hua Lamphong: This is the name of Bangkok's main train station. It's also the name of the MRT station located in this area. There are 4 enter/exit's to the Hua Lamphong MRT. Exit 1 is located in the actual train station.
Silom (MRT) - Sala Daeng (BTS): Both these stations are interconnected. Take the MRT to Silom go up the escalator take a U-turn, return your token, exit the station by going up another escalator. In front of you is Silom road with the BTS skywalk above. Don't leave the platform, simply take another U turn to your right to discover a stairs and escalator leading up to the BTS skywalk above. At the top of the escalator take the first left and keep going straight over Silom road until you reach Sala Daeng BTS station.
Sukhumvit(MRT) - Asok (BTS): Both of these stations are interconnected in the popular Sukhumvit area. The BTS is above ground while the MRT entrance/exit is located below the BTS station at ground level.
Chatuchak Park(MRT) - Mo Chit(BTS): This is where both the MRT and BTS link with the popular Chatuchak Weekend Market. The MRT is located in the actual Chatuchak Park while the BTS is on the main road outside the park. Chatuchak Weekend Market is beside the park. Mo Chit is also near to where Bangkok's northern bus terminal is located. It's better to take a taxi from the BTS station to the bus terminal than to walk.
Siam (BTS): Siam station is the busiest of all BTS stations as it links with another BTS line right beside one of Bangkok's most popular shopping districts Siam Square. There are three BTS floors here and it can get crowded during rush hour.
Saphan Taksin(BTS) - Saphan Taksin pier/Sathorn Pier(river boat): If you want to take a river boat along the Chao Phraya river to visit attractions like the Grand Palace or Wat Arun then make your way to Saphan Taksin BTS. Go down the first steps and take a left. Continue to the end, insert your BTS card into the exit machine and go down one of the two stairs leading to the street below. Keep going straight until you come to the river and the river boats.
Victory Monument(BTS): Take the BTS to Victory monument for a bevy of local bus and mini van services out and into Bangkok.
Wongwian Yai (BTS): Just over the river is the Thonburi district of Bangkok. It's also where the small Thonburi railway station is located. It's no where near the BTS station (30-40 min walk) but it's easier to get a taxi to the station from here than from the other side of the river.
And that's it for the main transport links. Yes there are many more important stops but these are the main one's that will be very useful to you when visiting Bangkok. If you can familiarize yourself with these ones then you'll be one step ahead of the rest on your trip.
Want more? See more travel guides to Thailand on the right hand sidebar.