Travel Journal Overview: Day two of my whistle stop tour of New Delhi. Too much culture all rushed into one day. But somehow it worked, and saved me a lot of time.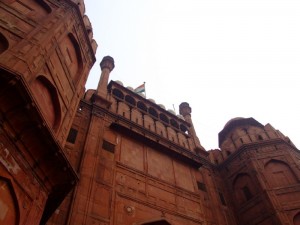 Again I was at the tourist office nice and early. Today was the Delhi tour. yesterdays tour was not so bad. And the idea of being
driven rather than taking rickshaws to all of Delhi's main sites was appealing for only 260 RPS, although rushed.
Jantar Mantar: Essential a large astronomical sculpture site. Run down and unkempt. Interesting though to see huge working sculptures that could measure eclipses, stars and so on. About 150 RPS Entrance Fee
Lotus Temple: A Bahá'í House of Worship that is in the shape of a marble lotus flower. A little oppressive for a religion that claims to represent all religions. Shoes off, take a leaflet about them and stay silent. Free.
Qutub Minar: A park of impressive monuments, one of the better places on the tour. Qutub Minar itself is a 72.5 Meter tower. 250 Rupees Entrance fee, too high.
Lakshmi Narayan Temple: This modern temple contains almost all the deities of the Hindu Religion and is quite beautiful piece of architecture. Lots of bright yellows and white used, and plenty of corridors to roam. 100 rupees, but no cameras, which is a terrible shame.
Safdarjung Tomb: A nice representation of Architecture, but nothing too exciting. Bar, the price 250 RPS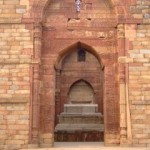 Red Fort: The Red Fort was quite impressive, very large and quite ornate. Large gardens and plenty of Photographic opportunities. 100 RPS
Rajghat: A memorial to Mahatma Gandhi set in a large garden area with a black marble platform that marks the spot of his cremation. Not so exciting unless you want to visit for a reason. Free
Humayun's Tomb: Another fine example of Mughal architecture that's worth the fee to get in. One of the better sights in Delhi. 250 Rupees.
The whole tour finished up at 6pm. In the end it was a nice tour, but could have just focused on a couple of places rather than the usual tour rush through. Still it served it's purpose for me, and saved time.
Unfortunately the Train booking office was closed when I got there, which was a bugger as I wanted to secure my ticket early after the last fiasco.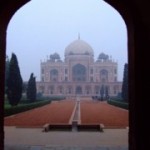 News continued badly as I briefly check my mail to see that the biker I met in Iran, Paul, was behind on time and was going to spend Christmas in South West India instead of Kathmandu. This messed up my plans quite a bit. What do now for Christmas? Still go to the orphanage in Kathmandu by myself, or stick to the original plan and go trekking in Nepal. Maybe stay in India?
A hippie came into the internet cafe and announced he had to get in touch with the "other side…"
No, I would not be staying in India.
Some related links on this website that  you might like: (including a lot more photographs from India)
Stories: The Dealing with the Delhi Post Office

Stories: Accomplishing Something on the Ganges

Video: On the Ganges Ceremony