Siomai from The Philippines
Of all street food in the Philippines Siomai is as close to my favorite as it gets. It is basically a small ball of pork or beef covered in a light filo style pastry and steamed. Then on the street served up in little trays with a choice of  chili sauce,  light sauce and soy sauce.
Finding the best Siomai in The Philippines
It's not always easy to get, as it takes a little preparation. But once you find a little man with a stack of aluminum containers you might not want to move away for a while. Siomai is also becoming available in upper scale stalls serving beef, pork & shrimp and fish options.
Origins of Siomai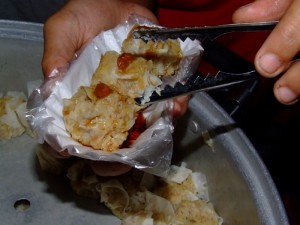 Siomai is available in many other South East Asian countries locals telling me it's origins are Chinese. Indeed in Tibet & Nepal there are similar style dumplings. However Nepalese Momo's have a much thicker pastry.
How much does Siomai cost in The Philippines?
In the street you can pick up Siomai for as little as 3 pesos each. While in Chow king expect to pay around 50 pesos for 3! The deluxe stalls charge up to 35 pesos for four. Many Filipinos don't like street Siomai claiming it's not good meat. But I never had a problem and it tastes really good.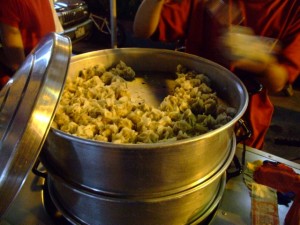 This is an additional post and one of a series highlighting Filipino food from The Philippines