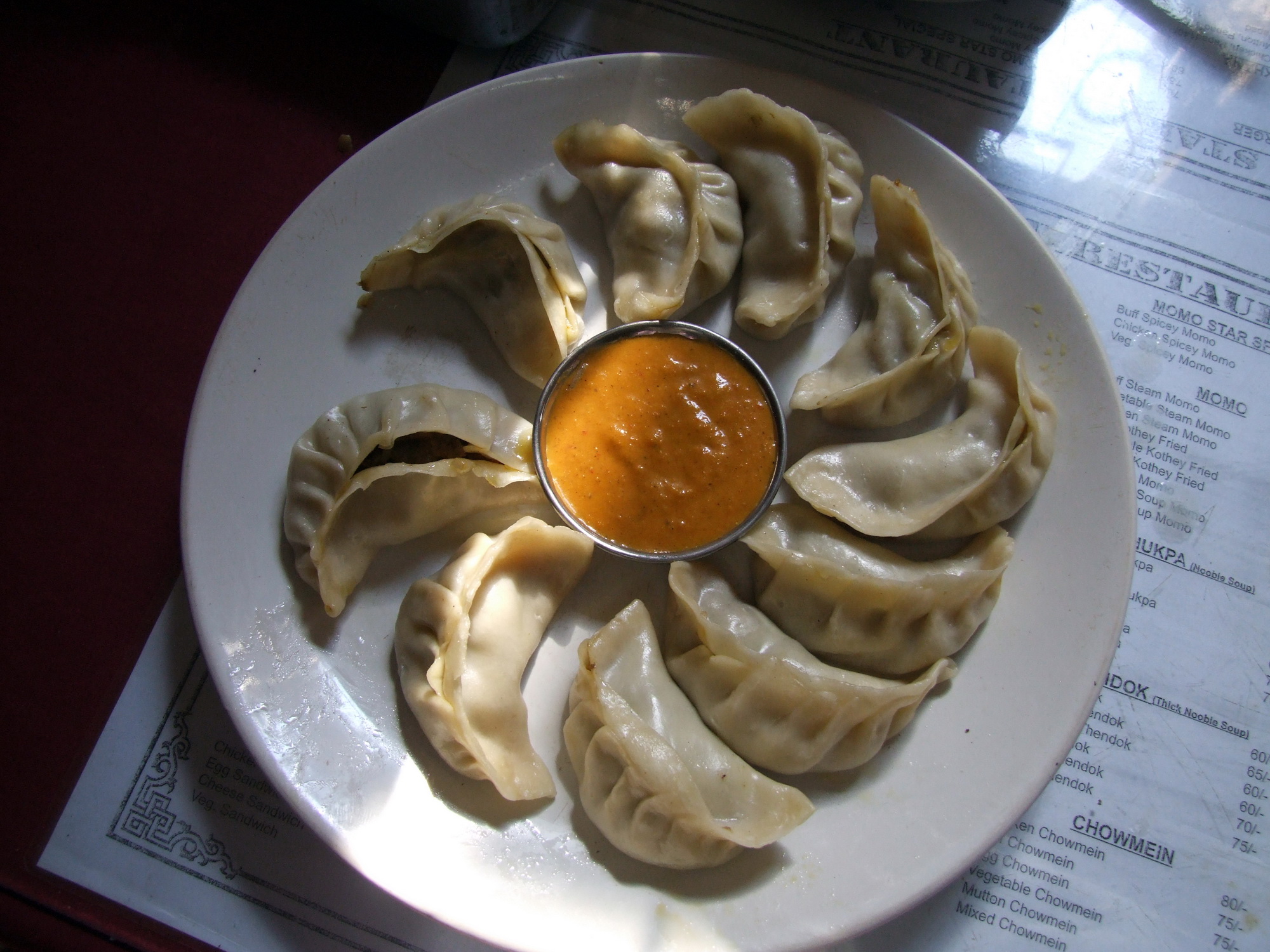 Momos are one of the most addictive & tasty foods you can find in Nepal
Ask many a tourist what their favourite food in Nepal is and there's a strong chance they'll reply "Momos!" There's a good reason for this. Momos in Nepal are delicious!
There's also a substantial difference in tourist or upper scale momos and locally made momos in Nepal. I'll cover real locally made momos later, for now this type of momo is commonly found in tourist restaurants and in mid scale Nepalese cafes.
What is a momo?
A momo is made from thin flour pastry with a filling inside. It's essentially a little dumpling.
Momos are found in Nepal and Tibet. There are many other variations around the world though from India and China all the way to Europe. But in Nepal the momo does have some unique attributes and variations worth mentioning.
What types of momo are there?
The most common types of momo are the steamed kind. There's also a popular fried momo.
Popular momos include:
Chicken momos
Vegetable momos
Buff momos
Cheese momos (usually "Yak" cheese in Nepal)
Momo soup
Momos are often severed with a dip. In this case it's a light masala dip.
Where to find the best momos in Nepal
The best place to find momos in Nepal is where ever they are freshly cooking them. The worst place is some side cafe that has them sitting there all day in a low-grade electric steamer.
Many locals will have their favorite place to get momos and will tell you to avoid other places. Saying things like the chicken momos from a certain restaurant are made from claws, beaks and skin. This is typical of Nepali favoritism. Take it with a grain of salt.
Momos can be greasy so watch out for your waistline
Avoid expensive restaurant momos or small hotel momos as they are likely to be expensive due to the long time it takes to make and cook a momo.
Tourist momo's can run anywhere between 150 to 600 rupees a plate! There's really no reason or need to be paying over 300 rupees. The momos photographed here are all under 150 rupees a plate.
How to make your own momo!
There are three key things to make momo. A Steamer. Thin pasty shells which are much easier to buy than make yourself. And, typical momo spice. Without these, it's not really possible!
All-purpose flour 1 kg

Water – for dough 4 cups

Minced (ground) meat 1 kg – or cheese/veg substitute)

Shallot/spring onion – finely chopped

Onion – 1 tablespoon finely chopped

Ginger 

½

cup

Garlic paste 1 tablespoon

Oil 2 tbsp

Cumin powder (to taste)

Garam masala (to taste)

Salt (to taste)
Steam momos for 10-15 minutes! 
Garam masala is one of the key ingredients for momo. You can find it at most Nepali or Indian supermarkets or in Ason Chowk.
Later on I'll cover local momos which are a little different to these tourist or mid scale momos. Which are better? The one's featured here!
 This is an additional article highlighting food from Nepal
Find out the best places to eat in Kathmandu:
Looking for restaurants and places to eat great food in the rest of Nepal? Check out my guidebook below!
---
Get my Guidebook to Nepal & discover more than anyone else!
Looking for more insider tips and information like this? Get the most up-to-date, popular and dedicated guidebook to Nepal in the world. Over 617 pages & 984+ photographs of every temple listed, daily guides on all the treks listed and so much more.
Take a look below and you'll find out why this beats all other guidebooks!