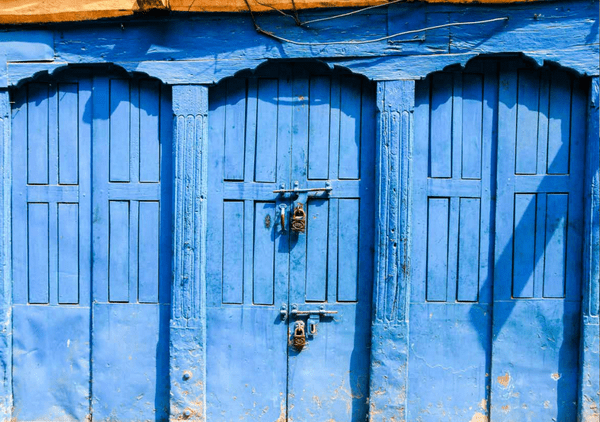 Lonely Planet have permanently closed their community travel forum, the Thorn Tree
With no warning, other than its long spiraling lack of care, Lonely Planet shut down the popular travel forum Thorn Tree in mid-September (2021). Not only that, but they deleted decades of information, history, and people's friendships in what once was the world's largest travel forum.
It a testament to the falling status of the once popular travel publisher built on the genuine travel updates from Tony and Maureen Wheeler. There was little to dislike back in the day. Real travelers, on the road, telling us about places to go, what to eat, where to stay. The Thorn tree was where travelers met, and discussed off the beaten path places, updates, and more.
Then in 2007 the Wheelers sold it to the BBC. You can read more about the history of Lonely Planet. The decline continued on as it was sold on again to the corporate group NC2 Media. In 2020 they closed their Australian and London offices. In December 2020 NC2 Media sold Lonely Planet to Red Venture an "integrated marketplaces", corporation.
The Thorn Tree was once a really great place
Back in the late 1990s and early 2000s, I was a member of the Thorn Tree and found it a great way to learn more about places "Not in the guidebook". Or, more up-to-date information on border crossings, arrival details on hard to reach places. Interestingly, there were few "know it all" types on the Thorn Tree back then. It really was just a bunch of travelers helping each other out. Is there anything better in travel companionship than that?
I met Linda there. No scandal. She was looking for someone to travel with, and we met at a cafe to "vet each other". Turns out, we both simply looked at our past Thorn Tree posts and approved to meet up. So, we said, let's go. We met up with others along the way and such was life and a glorious adventure.
Whenever you'd head to a new country slightly off the common travel routes you'd check out the Thorn Tree just to be sure of the entry requirements. If you were going to a place with a really out dated book, you'd be sure to have at least one person on the Thorn Tree who could tell you the latest scams and places to stay. It pretty much all stayed like that until the first sale of Lonely Planet in 2007.
Things kept growing on the Thorn Tree until …
That early decade of the Thorn Tree was a special place for me. I researched a lot of my overland travel on the Thorn Tree. With overland travel you needed the latest updates to figure out what border was open and any dangers that were involved. We talking about a period in time involving places that were fresh with kidnappings, the odd war, and of course a bevy of scams.
A lot of places on the Thorn Tree were not covered in guidebooks well. I remember the Pakistan and Iran Lonely Planet books and seeing a few short lines. Not much help. Then "Everbrite" on the Thorn Tree replied to my questions.
"A Korean couple were just posted as missing. It's still fine though …"
She was testy, but a volunteer there so knew her stuff. Thank you Everbrite. These were the days before  helpful "influencers" offered up photos of infinity pools at the latest Hyatt. It was a few years later that I jumped in and helped out Lonely Planets then pic n mix chapter books.
Nobody really noticed when in 2011 Tony and Maureen Wheeler sold their remaining 25% stake in Lonely Planet to the BBC. The world's economy took a nose dive, guidebooks started airing on the side of cookie cutter formats there was a rise in bloggers, paid links, sponsored stays and all manner of internet folie. Lonely Planet was loosing its sparkle as trolls appear more out of control and virulent. Something was bound to give way. It happened quickly.
First closure of the ThornTree
In 2012 Lonely Planet suspended the Thorn Tree from all comments and new posts. Something was up, as a mass migration from Thorn Tree to TripAdvisor took place. The same names appeared on the upstarts forum page all asking the same questions, "why was the Thorn Tree shut down?"
The answers took about a week to surface.  During this time, there was a media frenzy over pedophilia at the BBC with many hosts being outed, police investigations, etc. It seemed Lonely Planet's Thorn Tree had been suspended due to a pedophilia investigation. This turned out to be no more than a few members mouthing off about the "definition of pedophilia" and the latest news on the investigations at the BBC. Nonetheless the BBC was under pressure so closed anything down at the mere mention of it.
Later, a post on the Thorn Tree stated that it was suspended due to "Inappropriate language and themes".  It took a few weeks, but the Thorn Tree came back with new warnings that anyone using strong language would be removed. They then announced that a new logon system would be created. But the damage had been done … it was all downhill from there.
Downfall of Lonely Planet's Thorn Tree
The initial exodus from the first suspension to TripAdvisor meant people had a new means to talk. Once you move people, it's hard to get them back. Meanwhile back on the Thorn Tree there were weeks of non-working passwords and new covertly complicated log in system which frustrated people.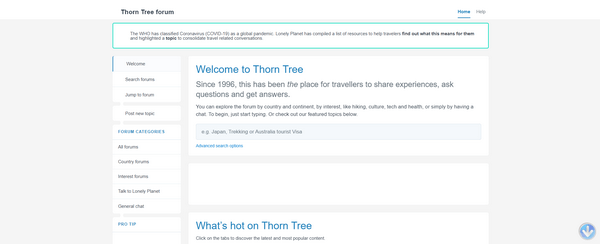 On the forums themselves old favorite volunteers only came back to announce they were done due to not being happy with new regulations.  Worse yet those same decade old volunteers saw their old posts being deleted for such announcements. Such harshness saw the stalwart of old school travel forum users depart. With them, went the legions of people who appreciate their work. The newcomers seemed generic, many coming from the interns desks at Lonely Planet.
Popular names showed up in other travel forums. But it meant a splintering of the travel forum community. There were weeks if not months of posts asking "where is everyone?". The downfall was well underway as the divide-and-conquer mindset from within had started. TripAdvisor was and still is littered with travel agencies both domestic and foreign, all offering "advice" that slowly leads you to their check out point. Meanwhile, on the Thorn Tree things limped on under new ownership of NC2 who planned big things for Lonely Planet which was a code of "We are moving to a paid platform".
Out of the blue, the Thorn Tree is closed forever
The timeline makes sense. The NC2 plan to make Lonely Planet a pay walled online guidebook company failed. In 2020, the pandemic was the perfect excuse to downsize as they shut down offices in Australia and London while laying off their travel writer staff. The Thorn Tree went into "Read only" mode. Then, in late 2020, NC2 completely bailed and sold Lonely Planet off to a marketing firm, Red Ventures.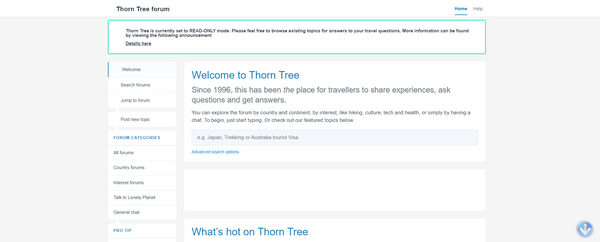 With the mindset to use "online algorithms" to write new guidebooks. Creating the same template for all guidebooks. Pushing their own Lonely Planet tours though third parties it drove a spear into the non-biased ethos of the publisher. It was no longer an organization we all trusted so well. Then, as if to, make sure we all knew that, in September 2021 the Thorn Tree was closed down forever.
There was no warning. Decades of information, friendships, and travel memories were deleted. Nothing remains of the https://thorntree.lonelyplanet.com
Only a generic "editors" page is there now, telling us this –
"
The world of travel is changing. Following the global upheaval caused by the COVID-19 pandemic, we decided to put our beloved forum, Thorn Tree, into "read-only" mode, which prohibited the creation of new posts. This helped to curb the spread of information that would lead to unsafe travel in a rapidly shifting world.  
Now, in 2021, as we continue to live with the effects of the pandemic, we recognize that travelers need different kinds of tools to navigate this unpredictable landscape. 
As Lonely Planet embarks on a new journey to bring you even better guidance, support, and information for your next trip, we've made the difficult decision to completely close down and remove our Thorn Tree forums. 
We know Thorn Tree has been a big part of many of your traveling lives, as it has ours. Thank you for all of your contributions – your incredible stories, planning ideas, and lively conversation – to this space throughout the years. 
This certainly isn't the end of Lonely Planet's community. We hope you'll join us on our social channels to continue the conversation. In particular, our Lonely Planet Facebook Travelers Group is the place to share questions and get advice when planning travel. You'll also find us on Twitter, Instagram and our new TikTok account. 
Our newsletter is the best way to stay in touch with Lonely Planet on new developments, products and travel news. 
Thanks for your understanding, and we look forward to bringing you an all-new Lonely Planet in the coming months. 
– Lonely Planet Editors
"
And that was that …
This all happened in September. I was hoping for a reprieve.  But the passion seems to have gone out of the remaining members. A problem with forums is that once you close it, people splinter. There's no uprising of members asking for it to be brought back. That's not the new ethos of the marketing company that bought Lonely Planet either. It's here to make money and market.
It's not easy running a travel forum. Spam from bots or automated programs is the biggest issue. So many generic posts with links to websites. Then you have the real people spam from tour guides, both domestic and foreign owned fishing for new customers or worse yet influencers looking for new leads. Running a proper forum has to be done with passion. And these days social media has taken a lot of that passion away by splintering it into different areas.
Having a look at the Thorn Tree replacements offered, the Facebook Group is blast of generic photos of commonly visited places. Instagram is more of the same. Twitter copies Instagram and TikTok is … well … special. Suffice to say, there's no secret info on where to go or what to see off the beaten path. It's all generic or at best sculpted by a marketing company leading you to an affiliate hotel or tour.
Did we really need a Thorn Tree Travel Forum?
Yes, is my answer to that. I don't trust influencers, and places like TripAdvisor are filled with fake reviews and tour agencies covertly looking to sell you something. A Travel Forum that is moderated well, by people who are in the know, eliminates all that fodder. This is where the work comes in. It takes skill and experience to know about travel and moderating to run a form. That's full-time work. It's far easier, cheaper, and faster to simply post a nice saturated photo and let the paid likes take over.
TripAdvisor has become the default replacement. There are other forums, but they all seem dead in the water these days. Rough Guides had a forum which also vanished a few years back too. The sad thing is that both Rough Guides and Lonely Planet won't have guidebooks out for a few years. Yep, really. The new books are years away.
I guess that's where things have come full circle. I just updated my digital guidebooks last week. My print guidebooks are also from this year. If someone needs a guide for trekking in Nepal they can contact me directly. Do I need a forum for Nepal? No, I've somewhat skipped that stalwart and gone straight for providing the most up to date guidebooks to Nepal in the world today. For people that one a personal touch, I also offer to find people the best guide for their trek.  Or, I'll put together their full trip to Nepal. Now that's full circle!
The future of travel forums
It's a full time job. Unless a company wants to dedicate staff for the purposes of moderation and no more, then there's not that much incentive for them. Unless a wily wealthy entrepreneur comes along and looks to add competition to the industry. Google did that with Frommers when they took over its content, then sold it back. Could this happen again?
The time is ripe for a new competitor to come along and reboot the industry. It looks like people are starting to travel again post-pandemic. There's a need for honest travel information. I don't believe the likes of yet another big marketing company are going to be the ones to do this. Nor do I think Amazon or the like are going to do it. If something like this is to happen, I think it will come out of left field.
It will come from someone with a passion for travel. Honest travel. That's how it starts. At the moment we have marketing companies buying guidebook companies to make money. What we need is someone to start a guidebook company because they love people to explore new places. And in that, a new travel forum will emerge.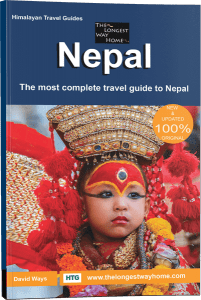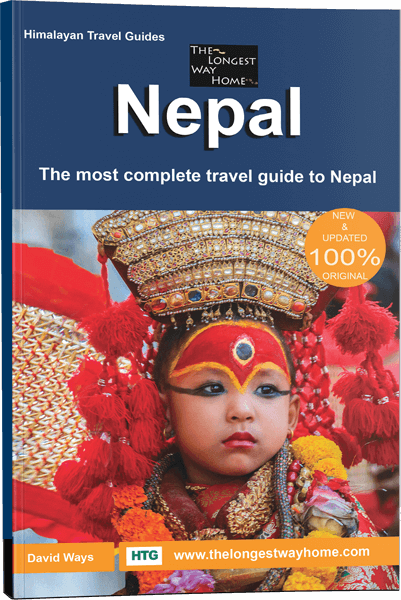 While we are waiting for someone to do all this …
I rebooted the tired old guidebook format for Nepal. I keep them updated. They are digital and interactive, the first ones to do this. The format works. Why? Because that's what I had a passion for. Making a guidebook better.
In print, everything is now carbon positive. Yep, the first guidebooks in print to plant more trees than it takes to produce a book.
So yes, while we are waiting for the next big thing, I'll be here, keeping the ball rolling with the latest guidebooks to Nepal.
---
Get my Guidebooks to Nepal & discover more than anyone else!
Looking for more insider tips and information like this? Get the most up-to-date, popular and dedicated guidebook to Nepal in the world. Over 617 pages & 984+ photographs of every temple listed, daily guides on all the treks listed and so much more.
Take a look below and you'll find out why this beats all other guidebooks!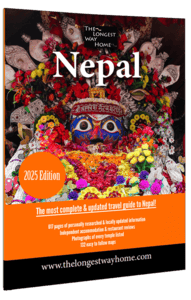 Get the digital Nepal guidebook here!
Get the paperback Nepal guidebook here!
Or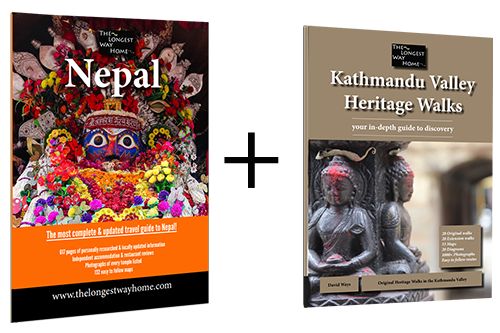 You can get 50% off my Digital Nepal guidebook by getting it with the Kathmandu Valley Heritage Walk book